Macmillan Cancer Support
Working together to deliver sustainable improvements in cancer care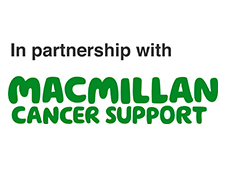 We are working with Macmillan Cancer Support to improve the experience of cancer patients who use our hospitals.
The partnership will increase the health and wellbeing support for cancer patients and provide better access to clinical nurse specialists. It will also develop new ways for people affected by cancer to get involved and shape cancer care. The focus will be on King's and Macmillan working together to improve the experience of everybody affected by cancer in South East London.
This collaboration brings together patients, clinicians, managers and cancer experts from across both organisations. We will address issues highlighted by our cancer patients and ensure they have access to the right information and the best care whenever they need it.
Together we are listening and responding to our patients with cancer.
Get involved
We are putting our patients at the centre of what we do. We want to learn from our patients, their friends and families, about their experiences of King's and involve them as we plan service improvements. There are lots of opportunities to get involved, share feedback, and shape our plans.
Volunteer
Support other cancer patients and their families:
Meet and greet patients and their families in the Macmillan Centre or in some of our clinics
Support patients and their families to complete surveys or questionnaires
Chat to patients and their families at the Macmillan Centre or on the ward
Please note: you will need to become a King's Volunteer and agree to volunteer for three hours a week for six months.
Patient representative
Help influence delivery of care and design of services:
Become a working group or committee member and attend our monthly or bimonthly meetings
Chair a group or committee
We will give a description of your role and you will need to sign a patient representative agreement. We will offer you support and guidance to help you in your role at meetings, and opportunities to attend courses or have a buddy.
Recruitment
Help recruit our cancer service staff:
Give us advice on what we should look for or ask potential staff
Be on a panel when we recruit staff for the programme
If you sit on interview panels we will give you some guidance about your role, what to ask and what not to ask and how to assess the candidates you interview. You will need to sign a patient representative agreement form.
Attend events and feedback
Share your advice or give your views:
By email, phone or in person through occasional meetings or events
Hear what is happening
Keep up-to-date with what is happening at Cancer services at King's
Receive our news
If you are interested in any of the opportunities to improve Cancer care at King's, or would like to know more about how to get involved, please contact the Macmillan Information and Support Centre on 020 3299 5228 or email [email protected]