King's Health Partners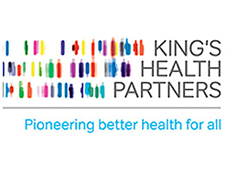 King's Health Partners is an academic health sciences centre, working in partnership with a research leading university and three NHS Foundation Trusts: King's College London; King's College Hospital; Guy's and St Thomas' Hospital and South London and Maudsley, where world-class research, education and clinical practice are brought together for the benefit of patients.
They translate cutting-edge research and existing best practice into excellent patient care.
With a specific focus on improving cancer care, King's Health Partners Integrated Cancer Centre (ICC) was created, bringing together world-class clinical services, research and education for the benefit of cancer patients across south east London and beyond. We share expertise not only to provide better cancer care, but to develop and deliver new types of treatments. By working together we aim to be not only one of the leading cancer centres in the UK, but one of the best in the world.
When you book your appointments, we will tell you which hospital to come to. For example, you may go to Guy's Hospital or St Thomas' Hospital for radiotherapy but for chemotherapy treatment you may go to Guy's, King's, Princess Royal University Hospital (PRUH) or Queen Mary's.