WiFi and entertainment
Wi-Fi
Free patient Wi-Fi is available at King's College Hospital, Princess Royal University Hospital and Orpington Hospital. Patients and visitors can access the internet free of charge 24 hours a day.
To access the Wi-Fi, select the 'NHS Wi-Fi' network from your mobile, tablet or laptop. Accept the Terms and Conditions, and click 'connect'. Patients and visitors accessing the Wi-Fi can use the service to find out information about the hospital, as well as use the internet more widely.
For further information, contact the Wi-Fi Helpdesk on 0344 848 9555.
TV and entertainment
We are proud to offer access to TV, magazines, games and more to all patients, visitors and staff, provided by King's College Hospital Charity in partnership with WiFi SPARK.
Our entertainment portal is available at King's College Hospital, Princess Royal University Hospital and Orpington Hospital.
After logging on to our guest Wi-Fi from any internet enabled device you will have access to*:
live TV on BBC One, BBC Two, ITV, Channel 4 and Channel Five
a variety of children's channels in the children's ward, including CBeebies and CBBC (some applications may require subscription)
a range of radio stations including links to a variety of international stations
a selection of digitised magazines from the last month including BBC Top Gear, Cosmopolitan, OK!, Beano, National Geographic and many more
dementia friendly resources designed to stimulate and engage those patients who are living with dementia
free video calling through the Visionable app
information about our hospitals, King's College Hospital Charity, and our events and donation page to stay up-to-date with our hospital activities
As well as this, you can continue to browse as normal using our hospital Wi-Fi. Please remember to bring a pair of earphones or headphones, a charger and your internet-enabled device to ensure you can fully enjoy the entertainment on offer.
Inpatients without a device can borrow tablets on our wards (see below).
*Please note: catch-up TV/on demand services including BBC iPlayer, ITV Hub, Netflix, Disney+, Spotify and others will be accessible via the new system but only to those with pre-existing personal subscriptions.
Accessing the entertainment
Log on to our hospital Wi-Fi by going to the Wi-Fi settings on your device and selecting 'NHS Wi-Fi'.
Once you are connected to the Wi-Fi, go into your browsing app, and visit 'www.wifilounge.co.uk'.
This will take you to the entertainment hub where you will be able to access the selection of SPARK® Media entertainment options.
If you need help with accessing the system, there is a service desk available 24 hours a day, every day. To contact the service desk, call WiFi SPARK on 0344 848 9555 or email [email protected].
How to borrow a device
Any inpatient without their own device can borrow one. Devices can also be loaned to relatives of patients who are visiting patients for long periods of time, for example, parents with children in the Neonatal Intensive Care Unit. We are unable to loan devices to outpatients or patients in our Emergency Departments.
We have different age-appropriate devices for adults and children.
To loan a device from us, speak to any member of staff on your ward or reach out to our Volunteer Service at [email protected] to submit a request. We will come to you or your family member or carer as soon as possible.
At the end of your stay, please return the device to the nurses' station on your ward.
Feedback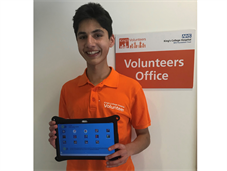 Volunteer James (pictured) says:
"I love handing out the entertainment tablets because I've seen how just putting on Magic FM on the radio app can cheer a patient up when they're stuck in their bed. Also, I think it's lovely that the older people can learn to use the technology and talk to their relatives with it. It is amazing!"
Sophie, a play specialist at King's, says:
"The devices for the patient entertainment portal are easy to use and provide a great variety of entertainment for our patients and their families. They are especially convenient for when the playroom and schoolroom are closed."
Volunteer Anisha says:
"I enjoy being an entertainment portal volunteer as loaning out the devices to patients really brightens up their day. It is a very rewarding role and I feel so grateful to be a part of it."