Chaplaincy
Coming to hospital can cause many different emotions in patients, relatives, carers and friends. You may want to talk to one of our chaplains or volunteer ward visitors in confidence.
The Chaplaincy Service at King's offer spiritual, religious or pastoral support to people of all faiths and beliefs, religious and non-religious.
You can talk to chaplains from the Christian and Muslim faiths. We can also call community faith leaders representing the major world religions and the Humanist Association to support you. The chaplains are assisted by a group of volunteer ward visitors.
Peace and quiet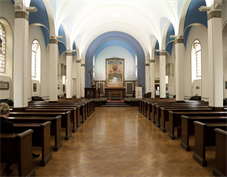 In a busy hospital you may need a space where you can reflect in peace and quiet. These spaces are open every day:
St Luke's Chapel, on the first floor of Cheyne Wing.
The Sanctuary (quiet room), next to St Luke's Chapel.
The Muslim Prayer Room, on the lower ground floor of Hambleden Wing. It also has an ablution area.
Becoming a chaplaincy volunteer
Chaplaincy Volunteers come from a variety of local faith and belief organisations. After training, they visit patients with their consent. Their role is to work with the chaplains and to listen and respond sensitively to patients' needs, and this may mean supporting someone from a very different background. It is strictly forbidden for a chaplaincy volunteer to promote their own beliefs or philosophy, or distribute literature.
To find out more, contact the Chaplains on 020 3299 3522 or [email protected].
To apply, go to the volunteering page.
How to contact us
From inside the hospital, please call us on extension 33522
From outside the hospital, please call us on 020 3299 3522
If your call is not urgent, you can leave a message on our answer machine.
Or you can email us at

[email protected]
We have a chaplain on call all day and night. In an emergency, nursing staff can contact them through the switchboard on 020 3299 9000.