Inside King's magazine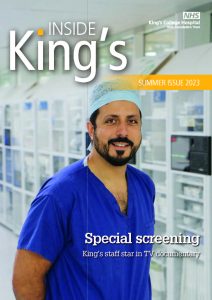 Inside King's is our magazine for patients, staff, and anyone with an interest in what is happening across the Trust.
Printed copies of Inside King's will be available at all of our hospital sites. The magazine is also sent to our public and patient members.
Going green
Members can help us cut costs by getting their copy of Inside King's and other news updates by email.
Keeping you up to date about what is happening at King's is really important to us. By using email, we can send you the latest information at the touch of a button.
If you currently receive Inside King's by post and would like to switch to email, contact us with your email address at [email protected] or phone the Membership team on 020 3299 8888.