Attending our hospitals
If you come to the hospital, we ask that you follow these safety measures to help prevent the spread of COVID-19. You may also be asked to take some extra precautions by our staff.
Do not attend if you have confirmed or suspected COVID-19
The only exceptions are if you:
have told a member of our hospital staff that you have confirmed or suspected COVID-19, and they have advised you to come into hospital
need emergency or urgent care
are in labour.
Wear a face mask in clinical areas where indicated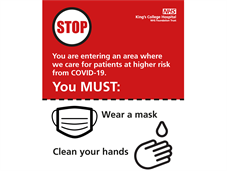 Face masks are required in a small number of clinical areas, specifically those areas treating patients who are a greater risk from COVID-19 infection (i.e. patients who have a weakened immune system). Patients and visitors are no longer required to wear masks in other areas, but if you choose to wear a mask, we fully support your right to do so.
Areas where masks are required will be clearly marked with signage, pictured here:
Clean your hands regularly
We encourage all patients and visitors to wash their hands before and after visiting. Hand-washing stations and sanitisers are available throughout the hospital.