Dr Bu Hayee
Consultant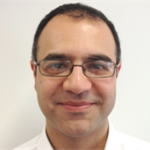 Year Qualified

1999

Qualifications

BSc; MBBS; PhD; FRCP

Specialty

Gastroenterology
Special Interests
Bowel cancer screening
Endoscopic submucosal dissection
Endoscopic treatments for type 2 diabetes and obesity
Gastroenterology and nutrition
GI complications of cystic fibrosis
Inflammatory bowel disease (Ulcerative colitis and Crohn's disease)
Intestinal graft versus host disease
Magnification endoscopy
Per-oral endoscopic myotomy (POEM)
Therapeutic endoscopy
Biography
Dr Hayee is a Consultant Gastroenterologist at King's College Hospital and has been Chief of Service since 2015. He trained at Guy's Hospital (GKT Medical School), graduating in 1999, and was appointed a Fellow of the Royal College of Physicians in 2015. His PhD, awarded in 2010, examined the role of innate immunity and neutrophil function in Crohn's disease. In 2011, he was awarded a travelling fellowship to Yokohama, Japan, to study advanced endoscopic techniques with Professors Haruhiro Inoue and Shin-ei Kudo.
He is a Reader (Associate Professor) in Gastroenterology at King's College London and maintains an active research interest, supervising several PhD fellows and basic scientists.
He is nationally-accredited for bowel cancer screening colonoscopy and has specialist interests in inflammatory bowel disease (IBD) and high-quality endoscopy, supported by NIHR project grant funding.
He led development of the specialist IBD service from 2012-2017, being shortlisted for an HSJ Excellence in Healthcare award in 2017.
Dr Hayee is a member of the British Society of Gastroenterology (for whom he serves as a member of the IBD section committee), the American Gastroenterological Association, the European Crohn's and Colitis Organisation, the American and European Societies for Gastrointestinal Endoscopy and the Association for Bariatric Endoscopy.
He is Clinical Lead for Gastroenterology, Training Lead for Endoscopy, and Co-director of the King's Institute of Therapeutic Endoscopy. He combines his two main interests (IBD and Endoscopy) in clinical service and research. He has projects investigating graft versus host disease of the gut, cystic fibrosis, chromoendoscopy for colitis surveillance, and has an active interest in novel treatments for IBD.
Related services
Research
Ngamruengphong S, Inoue H, Ujiki MB, Patel LY, Bapaye A, Desai PN, Dorwat S, Nakamura J, Hata Y, Balassone V, Onimaru M, Ponchon T, Pioche M, Roman S, Rivory J, Mion F, Garros A, Draganov PV, Perbtani Y, Abbas A, Pannu D, Yang D, Perretta S, Romanelli J, Desilets D, Hayee B, Haji A, Hajiyeva G, Ismail A, Chen YI, Bukhari M, Haito-Chavez Y, Kumbhari V, Saxena P, Talbot M, Chiu PW, Yip HC, Wong VW, Hernaez R, Maselli R, Repici A, Khashab MA (2017)

'Efficacy and Safety of Peroral Endoscopic Myotomy for Treatment of Achalasia After Failed Heller Myotomy', Clinical gastroenterology and hepatology : the official clinical practice journal of the American Gastroenterological Association,

():

Ngamruengphong S, Inoue H, Chiu PW, Yip HC, Bapaye A, Ujiki M, Patel L, Desai PN, Hayee B, Haji A, Wong VW, Perretta S, Dorwat S, Pioche M, Roman S, Rivory J, Mion F, Ponchon T, Garros A, Nakamura J, Hata Y, Balassone V, Onimaru M, Hajiyeva G, Ismail A, Chen YI, Bukhari M, Haito-Chavez Y, Kumbhari V, Maselli R, Repici A, Khashab MA (2016)

'Long-term outcomes of per-oral endoscopic myotomy in patients with achalasia with a minimum follow-up of 2 years: an international multicenter study', Gastrointestinal endoscopy,

():

Sato H, Inoue H, Kobayashi Y, Maselli R, Santi EG, Hayee B, Igarashi K, Yoshida A, Ikeda H, Onimaru M, Aoyagi Y, Kudo SE (2013)

'Control of severe strictures after circumferential endoscopic submucosal dissection for esophageal carcinoma: oral steroid therapy with balloon dilation or balloon dilation alone', Gastrointestinal endoscopy,

():

Smith BN, Evans C, Ali A, Ancliff PJ, Hayee B, Segal AW, Hall G, Kaya Z, Shakoori AR, Linch DC, Gale RE (2012)

'Phenotypic heterogeneity and evidence of a founder effect associated with G6PC3 mutations in patients with severe congenital neutropenia', British journal of haematology,

158,(1):146-9

Hayee B, Antonopoulos A, Murphy EJ, Rahman FZ, Sewell G, Smith BN, McCartney S, Furman M, Hall G, Bloom SL, Haslam SM, Morris HR, Boztug K, Klein C, Winchester B, Pick E, Linch DC, Gale RE, Smith AM, Dell A, Segal AW (2011)

'G6PC3 mutations are associated with a major defect of glycosylation: a novel mechanism for neutrophil dysfunction', Glycobiology,

21,(7):914-24

Smith AM, Rahman FZ, Hayee B, Graham SJ, Marks DJ, Sewell GW, Palmer CD, Wilde J, Foxwell BM, Gloger IS, Sweeting T, Marsh M, Walker AP, Bloom SL, Segal AW (2009)

'Disordered macrophage cytokine secretion underlies impaired acute inflammation and bacterial clearance in Crohn's disease', The Journal of experimental medicine,

206,(9):1883-97