One year of King's patient entertainment portal
20 March 2023 - TV, magazines, games and more available to patients, visitors and staff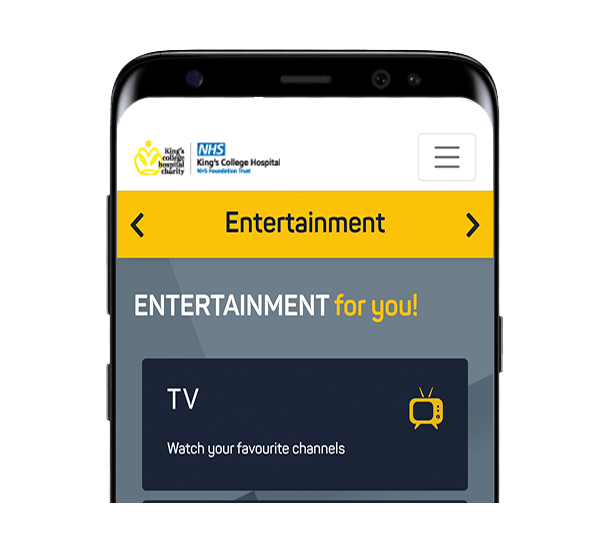 Thanks to the support of King's College Hospital Charity, we are celebrating the one year anniversary of our patient entertainment portal, a digital space where you can access music, games, magazines, television and more.
Between April 2022 and March 2023, Trust patients signed onto the portal 1,918,000 times, downloading 1.1M GB of data. This could fill more than 1,300 filing cabinets with information, enough to completely fill an average-size London flat eight and a half times.
Over that time, our Volunteer Service has contributed 2,140 hours of support, providing more than 70,000 hours of benefit to patients.
All patients, visitors and staff at the Trust can access the portal via any internet enabled device through our free NHS WiFi. Any inpatient without their own device can borrow one on their ward through our volunteers. We have different age-appropriate devices for adults and children. Find out more on our WiFi and Entertainment page.
The portal can be used to access:*
live TV on BBC One, BBC Two, ITV, Channel 4, and Channel Five
a variety of children's channels including CBeebies and CBBC
a range of radio stations including links to a variety of international stations
a selection of digitised magazines including BBC Top Gear, Cosmopolitan, OK!, Beano, National Geographic and many more
dementia friendly resources designed to stimulate and engage those patients who are living with dementia
free video calling through the Visionable app.
Patricia Mecinska, Assistant Director of Patient Experience at King's, said:
"We are very grateful to King's College Hospital Charity for their generous donation that continues to give our patients access to various ways of keeping busy during hospital stay or visit. Over the last 12 months I have heard of and witnessed many instances where the system transformed the experiences for our patients. The difference that we have managed to make in this short period of time is best quantified by the number of smiles and thank yous that we receive; and there have been plenty of them."
Iona Joy, Director, Grants and Insight, King's College Hospital Charity added:
"We're delighted to support the patient entertainment system which helps patients and visitors with the boredom, anxiety and isolation that come with extended hospital stays, waits for outpatient appointments, and recovery from injury or illness. Since launching, it's already had 12,332 media visits and 10,264 TV and radio users. We are doubly proud to support the fantastic King's volunteers, who have been instrumental in helping patients with the technology."
Find out more on our WiFi and Entertainment page.
* Please note: catch-up TV and on demand services including BBC iPlayer, ITV Hub, Netflix, Disney Plus, Spotify and others are accessible via the system but only to those with pre-existing personal subscriptions