New cycle storage facility opens at Denmark Hill station
02 September 2021 - Partially funded by King's, this is part of major improvement works to upgrade the station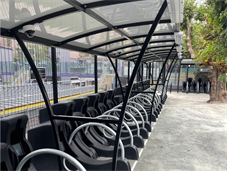 We are pleased to announce the opening of a new cycle storage facility today (2 September) as part of improvement works to Denmark Hill station. The new facility promotes safe cycling to improve the health and wellbeing of our staff, patients and visitors.
As detailed in our new strategy Strong Roots, Global Reach, we are proud to be part of the community as an anchor institution, which is why we, alongside our colleagues at the South London and Maudsley (SLaM), have contributed towards the new cycle storage facility.
By supporting this project we aim to improve the air quality in the local area by encouraging the move from car use to a more sustainable mode of transport.
Lorcan Woods, Chief Financial Officer and Sustainability Lead at King's, attended the opening ceremony this morning at Denmark Hill station. He said, "We are delighted to have contributed towards the new cycle hub at Denmark Hill station. As part of our Active Travel Plan, we are committed to providing additional bike storage for staff who cycle to work, and supporting local residents in our community to live an active lifestyle. Climate and health are fundamentally linked, and our new BOLD strategy seeks to address both."
In addition to the new cycle storage the station now boasts new entrances, more comfortable waiting facilities, sheltered platforms, better lighting powered by solar energy, and public art, following the completion of a major upgrade to Denmark Hill station.