King's launches a bold new five year strategy
14 July 2021 - Strong Roots, Global Reach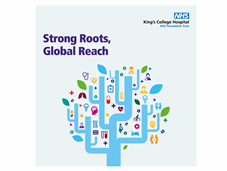 Strong Roots, Global Reach: the Trust's new strategy, aims to deliver excellence in our local hospitals and build our strong roots in the community, alongside access to world-leading specialist services and cutting-edge research.

Designed by staff, patients and partners from across the King's family, the strategy describes how we want to:
King's Chief Executive, Professor Clive Kay, said: "Throughout the COVID-19 pandemic, our staff have worked bravely and tirelessly in the face of extraordinary challenges. We are now entering a period of change and transition as we work with South East London partners to give patients access to care as quickly as possible, prioritise our staff's health and wellbeing, and continue to improve the efficiency and productivity of our services.
"Our bold new strategy marks the next step on our improvement journey, helping us shape the future of health and social care across South East London and beyond."
Find out more about King's latest strategy here.