Brilliant People
04 October 2021 - In July, we launched our new Trust strategy, Strong Roots, Global Reach, and our vision to be a BOLD organisation.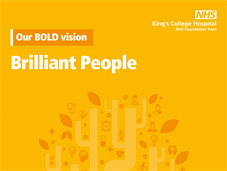 Brilliant People is where it all starts. This is a key part of our vision, and last week, we celebrated just some of the many talented and passionate staff working across our organisation.
We heard from Will who has just started an internship with us alongside seven other young people. This year marks our first as a host organisation for young adults with learning disabilities and autism, who join us for a year-long placement to gain work experience.
Separately our equality, diversity and inclusion team led online conferences for staff, with the aim of providing a safe space for people to talk about inclusion, and why it matters to them.
King's must be an inclusive place to work – and to be treated – and celebrating our differences will help the organisation thrive.
It was great to see so many staff take a short breather to celebrate each other and all the Brilliant People across our organisation. More than 1,100 of our staff took part to thank their colleagues and friends. It is important that we are living our new values as a Kind, Respectful Team.
We have prioritised five actions for Brilliant People in our strategy, which we'll accomplish over the next five years.
Our actions are:
Belonging to King's: We will be an inclusive organisation where everyone feels welcome and part of Team King's. We will embrace diversity, value difference and ensure equity of opportunity for everyone.
Being our best: We will strive to be our best, demonstrating our values in everything we do.
Looking after our people: We will be kind and caring, we will prioritise and invest in the holistic health and wellbeing of our people.
Inspiring leadership: We will be a clinically-led organisation with visible and high quality leadership.
Ensuring our people thrive: We will support the personal, growth, education and development of our current and future teams to meet our people's and patients' needs.
I know that these are priorities that our staff and local communities share. Together with the rest of the executive team, I am committed to building a culture where everyone at King's is valued.