King's accommodation
We offer a variety of short-stay and long-term accommodation close to the main hospital campus through a number of housing associations.
Short-stay rooms
We have a number of short stay rooms for single occupation only. These are adjacent to King's College Hospital's main campus on the corner of Coldharbour Lane and Coldharbour Place.
They are open to permanent and temporary staff and other groups on a nightly basis for any period from one night up to a maximum of two weeks, subject to availability. All accommodation is furnished, has full en-suite facilities and costs £33 a night.
To book a short-stay room, contact the Accommodation Office on [email protected]. They will give you more details and let you know whether a room is available on the date(s) you request.
Long-term accommodation
Please be advised that due to low availability of accommodation, only single person applications will currently be accepted.
To apply for long-term Housing Association accommodation, please complete the relevant application form below and return it to the Accommodation Office indicated.
Contact King's College Hospital Accommodation Office on [email protected] if you would like more information or need help completing the forms.
Notting Hill Genesis accommodation
Hambledon Court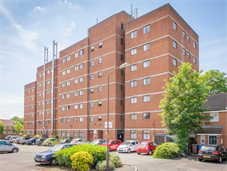 Hambledon Court offers long-term accommodation for staff of King's College Hospital, King's College London and other local hospitals. The property is owned and managed by Notting Hill Genesis housing association.
There are 159 rooms in total divided up into 40 four-bedroom flats over six floors. Hambledon Court is about one mile from King's College Hospital's main campus and less than half a mile from Dulwich Community Hospital. Each resident has a furnished, single room of their own and shares a kitchen/dining room and two bathrooms with the three other members of the flat.
Rent: £540 per calendar month (subject to review in April of each year) including council tax, utility bills and Wi-Fi. A deposit of £540 is required upon sign up as well as one month's pro-rata rent.
Minimum Tenancy: 6 months plus 6 weeks notice
See the links below for more information. If you are interested, email a completed application form to the Accommodation Office: [email protected]. Once your employment status has been verified the form will be forwarded to Notting Hill Genesis who will contact you regarding vacancies.
Clarion Housing Association Key Worker accommodation
Grove Vale and Hanover Park are managed via the Clarion Housing Key Worker scheme. See the Key Worker Scheme rents 2022/23 for full details of current rental prices and what is included at each property. Clarion Housing was previously called Affinity Sutton.
There is a standard application covering all its properties; you need to fill out only one form to express your interest in renting accommodation in any of them. Before you apply, please read the Clarion Key Worker Scheme FAQs and the Key Worker Scheme application cover letter. Both contain details of how the scheme works and the information you need to supply.
Grove Vale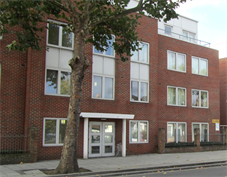 Grove Vale is at Goose Green, Dulwich, about one mile from King's. It comprises studio apartments and cluster flats.
A limited number of the studios are suitable for couples, the remainder are for single occupancy. All the rooms in the cluster flats have en-suite bathrooms and shared kitchen/dining facilities.
Cluster room rent: £604.76 per month
Single studio rent: £692.81 per month
Minimum Tenancy: 6 months plus 1 month's notice
All rents include water rates. Cluster room rent also includes council tax.
Hanover Park
Hanover Park is in Peckham, about 20-30 minutes from the hospital. It offers self-contained single studio apartments for staff, subject to availability.
Single studio rent: £658.97 per month
Minimum Tenancy: 6 months plus 1 month's notice
All rents include water rates.