Prof Igor Robert Blum
Head, Departments of Restorative Dentistry & Primary Dental Care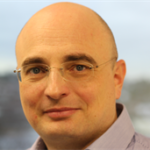 Year Qualified

1995

Qualifications

DDS, PhD, Dr Med Dent, MSc, MA (Educ.) MFDSRCS (Eng), MFDSRCS (Edin), FDSRCS (Rest Dent), FFDRCSI, FFGDP(UK), FCGDent, PGCHE, FHEA, LLM (Medico-Legal)

Specialty

Restorative Dentistry, Prosthodontics, Periodontic
Special Interests
Clinical primary dental care
Critical appraisal of scientific literature
Healthcare law
Hypodontia and other dental developmental anomalies
Minimally invasive dentistry
Restorative rehabilitation of patients with oral cancer
The combined orthodontic and restorative management of patients presenting with complex malocclusions
Biography
Professor Blum is Clinical Lead and Consultant in Restorative Dentistry at King's College Hospital, and Maurice Wohl Professor in Primary Care Dentistry & Advanced General Dental Practice at the Faculty of Dentistry, Oral and Craniofacial Sciences, King's College London.
He is also Director for Dental Outreach Education at King's College London and Head of the Departments of Restorative Dentistry and Primary Dental Care at King's College Hospital Dental Institute.
As a General Dental Council (UK) registered specialist in Prosthodontics, Periodontics, Endodontics and Restorative Dentistry, Professor Blum's clinical interest involves all aspects of advanced restorative dentistry.
Prof. Blum has lectured widely, both nationally and internationally. He has authored over 80 papers in peer-reviewed journals and six book chapters. He is Editor-in-Chief of the Primary Dental Journal, the official publication of the College of General Dentistry (Formerly Faculty of General Dental Practice, UK). In addition, he is a member of the national council of the College of General Dentistry and editorial board member of several high impact factor dental journals, including Journal of Dentistry and Journal of Prosthetic Dentistry.
Prof. Blum is the recipient of the Dental Excellence Mature Career Award by the Association for Dental Education in Europe (ADEE) recognising individuals' Excellence in Dental Education on international level. He is also examiner for postgraduate dental qualifications at the Royal College of Surgeons of England and the Royal College of Surgeons of Edinburgh, and has been an external examiner at the University of Kent. He is a member of the Specialist Training Committee for Restorative Dentistry and of the Professional Affairs Committee of the College of General Dentistry. He is a Fellow of the Higher Education Academy (UK) and he holds several visiting professorships in Europe and the USA.
Related services