Dr Georg Auzinger
Consultant Critical Care ECMO Director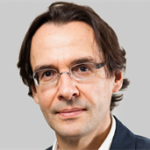 Year Qualified

1990

Qualifications

AFICM, EDIC, Dr med univ

Specialty

Intensive Care Medicine
Special Interests
Acute liver failure
Acute respiratory distress syndrome (ARDS)
Cardiovascular monitoring
Extracorporeal membrane oxygenation (ECMO)
Fungal infection in liver failure and the critically ill
Liver transplantation
Transesophageal and Transthoracic Echocardiography (TEE and TTE) in critically ill patients
Biography
Dr Georg Auzinger is a Consultant and Reader in Intensive Care Medicine and the Clinical Director for Critical Care at King's College Hospital NHS Foundation Trust.
He graduated from the Medical School of the University of Innsbruck in 1990. He trained in Internal Medicine in Austria, followed by Specialist Intensive Care training at the Alfred Hospital in Melbourne, Australia. The Alfred Hospital is a quaternary referral institution for Major Trauma, Heart and Lung Transplantation, Extracorporeal Cardiac and Respiratory Support, Burns and Hyperbaric Medicine.
In 2002 he was appointed as a Consultant Intensivist at King's College Hospital for General and Liver Intensive Care Units (ICUs). He was the Lead Clinician for the Liver ICU from 2007 until 2015, when he was appointed Clinical Director for Critical Care at King's.
Doctor Auzinger has special interests in extracorporeal cardio-respiratory assist, acute liver failure, liver transplantation, ARDS, fungal infection, and TEE and TTE in Critical Care. He is currently the Director of the ECMO service for severe cardio-respiratory failure at King's. He has published widely in the fields of liver diseases in the ICU, cardiovascular haemodynamics, and fungal diseases in Critical Care and following liver transplantation.