World Blood Donor Day at King's
14 June 2021 - On World Blood Donor Day, we spoke to Kelly, a Patient Blood Manager at King's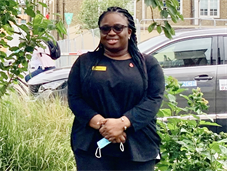 Kelly is responsible for Patient Blood Management across the hospital, vetting transfusion requests to ensure the appropriate use of blood resources and the production of Trust transfusion policies and guidance are in use. Kelly also works closely with NHS Blood and Transplant as the Chair of the London Platelet Action Group and provides training and education in transfusion medicine across the region. Here, Kelly told us about the importance of donating blood.
"The World Blood Donor Day 2021 slogan is "Give Blood and keep the world beating". It reinforces the global need for more donors to come forward from all walks of life to donate blood regularly to continue to save lives. In England, we need around 400 new donors a day in addition to regular donors to meet the demand for blood, and particularly Black donors who often have rarer blood types. People from the same ethnic background are more likely to have the same blood type. However, the shortage of black blood donors makes it harder to find the best-matched blood for Black patients.
"This day raises global awareness of the need to provide safe blood and blood components for transfusion but also of the efforts of thousands of unpaid donors that voluntarily come forward to give the gift of blood. Safe blood components and transfusion practice are critical to the care provided at King's College Hospital, with it being the biggest single centre user of blood components in the UK with vast quantities being used to support our expanding haematology, liver and major trauma services. Blood is used every day at King's, whether it's blood transfusions to babies in the womb, in the fight against cancer, or for patients undergoing organ transplantation.
"To all who are blood donors, we thank you for your precious contribution and encourage you to continue to come forward as your gift of blood is essential.
"For anyone else who is interested in becoming a blood or platelet donor, and would like further information on blood donation please visit the NHSBT website www.blood.co.uk for more information.
"Do something amazing…give blood!"