Work begins on new outpatient services facility
25 August 2021 - Construction of new building for outpatient services at King's College Hospital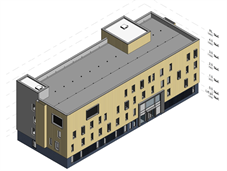 The latest update published on 23/11/21 can be found here.
This month, work has begun on the creation of a new building for outpatient services at King's College Hospital.
The new building will be situated next to the existing Normanby Building on our Denmark Hill site, with its entrance facing Bessemer Road.
This is an exciting developing for the Trust, as the new facility will enable us to free up space within the main hospital, so helping our teams to reduce waiting times, and improve the experience of patients visiting hospital for urgent care.
The new four-storey building will house a range of outpatient services and be a modular construction, which means that much of the building is created off site, with parts delivered to the hospital site where they are fitted together. This helps minimise building noise and keeps disruption to an absolute minimum.
The timetable for completion of the work is as follows:
The new building will provide a modern, purpose-built facility for patients accessing outpatient services on our Denmark Hill site – and further information will be communicated in due course.
As stated above, every effort will be made to keep on site disruption to an absolute minimum whilst the construction works are being – and we are grateful to patients, visitors and local residents for their co-operation and support.
If you are a local resident and are interested in or have questions about the transformation underway at King's College Hospital, please email [email protected]