"We're thankful to everyone involved in Leo's safe delivery"
27 September 2021 - Caroline Burt, who lives in south London, recently gave birth to baby Leo at King's College Hospital.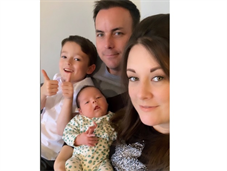 "It wasn't the birth story I had imagined" says Caroline, "but all the staff were wonderful – we can't thank them enough."
Caroline has type 1 diabetes, and also experienced problems with her kidneys during her pregnancy. She was booked in for an elective caesarean section at 37 weeks – but due to further problems with her kidneys, Caroline's delivery date was brought forward.
"The night before my planned caesarean section, my midwife was completing the usual checks and spotted that something wasn't right – and very quickly, I was rushed to theatre due to foetal distress."
"It was the middle of the night, and my husband was at home looking after our eldest son Aiden, so I was facing delivery on my own and feeling very frightened. In theatre, the whole team were absolutely amazing and did everything they could to help me calm down, and put my mind at ease.
"My anaesthetist was really great and talked me through what was happening at every stage, and even took photos of Leo and me when I was finally able to see him. I didn't feel like I was on my own at any point, and I am so grateful to them all for getting us both through quite a traumatic delivery."
After Leo was born, he needed to be treated in special care as his delivery required forceps, rescue breaths and oxygen – plus, he was four weeks early.
Caroline says: "I was taken to HDU and was looked after throughout the night and subsequent days by so many staff. I can't put into words how amazing the ladies on HDU were. Each of them was so dedicated to looking after myself and Leo (who was able to come back to me the next morning), going beyond what is expected, I am sure. We cannot thank them enough."
Leo is doing well, and Caroline is grateful to the staff who supported her so well through her second pregnancy:
"It certainly wasn't the birth story I had pictured; however, the care I received was above and beyond anything I could have expected. We are so thankful to each, and every person involved in Leo's safe delivery."