Volunteers' Week: Jenny's story
01 June 2021 - This week (1 - 7 June) is #VolunteersWeek, a national campaign to say thanks and acknowledging the contribution of volunteers in the UK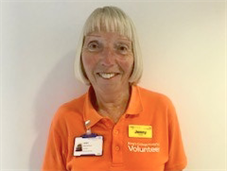 We caught up with Jenny, a King's Volunteer, who shares her story of how she became a volunteer at Orpington.
"After leaving school I spent four years doing secretarial work in various offices in London, then went to teacher training college. For 14 years I taught children with a range of disabilities and moderate learning difficulties and then I supported 4-6-year-olds with severe educational needs. After 18 months, I was burnt out and a short while later, was given early retirement due to ill health. During my teaching career I had attended courses at St. Christopher's Hospice in Sydenham as a few of the children had sadly died and, after leaving work, I applied to be a ward volunteer there.
"Soon after, I applied for a volunteer placement on a surgical ward at one of my local hospitals. It was suggested that, as I'd had a hip replacement, I might be interested in helping on the orthopaedic ward at Orpington. I have now been here for four years – initially on a weekly shift but increased to two – and I feel very much part of the team.
"On my arrival, I usually go round the bays and single rooms introducing myself and asking if patients need anything. I can't be missed in my orange uniform! I help give out suppers and sometimes cut up food for patients who, following surgery, have one arm in a sling. When patients return from the operating theatre and Recovery, I bring them a jug of water, followed by a hot drink, and then, if it's not mealtime, a choice of sandwich and yogurt or jelly.
"Some patients may not have a visitor and like to tell me their stories, or people ask me about volunteering. I enjoy the atmosphere, and knowing that I can help staff and patients on the ward is really fulfilling and worthwhile."