Two new Non-Executive Directors join Trust Board at King's
11 October 2021 - Dame Christine Beasley and Professor Yvonne Doyle CB take up their roles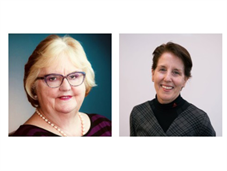 Two Non-Executive Directors have joined the Trust Board at King's College Hospital NHS Foundation Trust this month.
Dame Christine Beasley and Professor Yvonne Doyle CB were appointed as Non-Executive Directors at King's earlier this year, and took up their roles at the start of October.
Dame Christine Beasley (pictured left) has held senior roles across the NHS in a career spanning 50 years. This included being appointed Chief Nursing Officer at the Department of Health, a position she held from 2004 to 2012.
She has extensive experience of driving positive changes in clinical practice, as well as overseeing major organisational change and development.
Professor Yvonne Doyle CB (pictured right) brings a wealth of public health and research knowledge to her role, having qualified as a doctor and worked in the NHS, government and academic sector since 1990.
She is currently the NHS Medical Director for Public Health, and has a strong track record of helping to improve population health and addressing inequalities, particularly across urban areas.
Dame Christine Beasley said: "I am honoured to have been appointed to the Trust Board, and delighted to be joining the King's family. I am looking forward to working with staff and colleagues to continue to improve care and services to our patients and local community."
Professor Doyle added: "It is a privilege for me to serve patients and the NHS in this role. I look forward to supporting King's in serving the populations in greatest need of the benefits of healthcare."
Sir Hugh Taylor, Trust Chair at King's, welcomed Dame Christine Beasley and Professor Yvonne Doyle CB's appointments as Non-Executive Directors at the Trust.
He said: "I am delighted that we have appointed such high calibre individuals to the Trust Board at King's. Both Christine and Yvonne showed real passion and enthusiasm for King's, our staff, and the communities we serve – and their input and support will put us in a stronger position to realise our ambitions for the future, as set out in our new five year strategy."