Trans study in London becomes the world's largest investigation of blood tests while on hormones
10 October 2023 - The Trans and Non-Binary Reference Intervals while on Hormone Therapy Study will help healthcare professionals care for trans and non-binary individuals.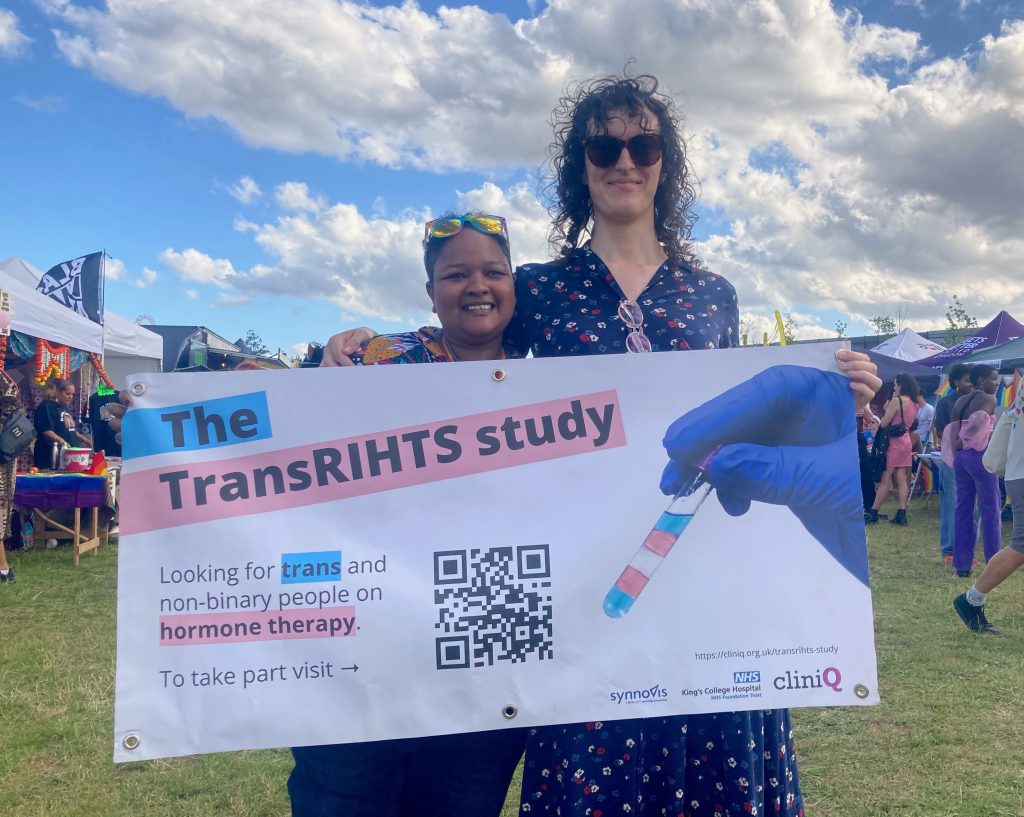 Two hundred trans and non-binary people have played a vital role in a research study to determine the normal range of blood test results for people undergoing gender-affirming hormone therapy. They have made it the highest recruiting study of its kind.
For many trans and non-binary individuals, hormone therapy is a crucial aspect of expressing their gender identity. Hormone therapy is known to change the normal results of some blood tests. Therefore, it is important to find out the new normal ranges because health care professionals use them to assess health and identify disease. Without them health care professionals might fail to spot disease early on, or perform unncessary investigations because they misinterpret a normal results as abnormal.
The Trans and Non-Binary Reference Intervals while on Hormone Therapy Study (TransRIHTS) is taking place at CliniQ, sponsored by King's College Hospital, and funded by Synnovis. The results of the study will help healthcare professionals monitor and maintain the liver, kidneys, heart, and bones of trans and non-binary individuals.
Devon Buchanan, Clinical Scientist at Synnovis, said: "People have diverse bodies and blood test results. Because the normal ranges of blood tests are essential for many health-care decisions, it is important for us to understand their diversity. The TransRIHTS study specifically responds to the needs of trans and non-binary people and will play a critical role in ensuring they receive the best quality of care in the future."
Adam, a TransRIHTS study participant, said: "Currently my blood test results are compared to cisgender men and women, and there's not much research on whether this is a good comparison. And in general there is not a lot of scientific research on medical transitioning and long term outcomes of hormone treatment. I would love for doctors and other people to have access to better data."
Michelle Ross, founder of CliniQ, said: "The TransRIHTS study is being run by and for trans people to inform the community, individuals, and healthcare professionals who provide excellent services. Devon Buchanan, Clinical Scientist at Synnovis has been working tirelessly to bring this study to completion, which is the first of its kind in the UK. Trans people have been keen to take part in this study that aims to improve healthcare services and remove barriers to accessing them."
Dominic Harrington, Chief Scientific Officer at Synnovis, said: "It is important that laboratory biomarkers are adequately studied so that their diagnostic utility is understood in all people. Synnovis welcomes and supports studies that aim to guard against health inequalities in clinical medicine. This has included investigating reference ranges for vitamin B12 deficiency for Asian, Black and White people, demonstrating that waist circumfence cut-offs used to define metabolic syndrome were invalid for patients of Black enthnicity , and evidencing cystatin C as a superior biomarker of renal function than eGFR among the same population. We will continue to strive to deliver equality in the care we support for all the people we serve."
Dr Michael Brady, Sexual Health and HIV consultant at Kings College Hospital and National Advisor for LGBT Health, said "I'm very proud that our clinic at King's College Hospital has been able to support this important study. The experiences of trans and non-binary people are frequently not seen in clinical trials and I have no doubt that the outcomes of this work will have a positive impact on the way healthcare professionals interpret common blood tests in people taking gender-affirming hormone therapy."
The study is still looking for volunteers. To be eligible to take part in the study, participants must be trans or non-binary adults who have been taking hormones for at least a year and who do not have liver disease, kidney disease, heart disease or diabetes.
For more information about the study, visit the CliniQ website.