Throwback Thursday with King's Volunteer, Sophia!
03 June 2021 - Last year we spoke to Sophia, who shared why she returned to King's as a COVID-19 Response Volunteer.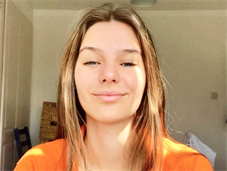 Today we caught up with Sophia for Volunteers Week 2021:
"My name is Sophia, and I volunteered at King's College Hospital for a year before I started working with the service. The experience enabled me to grow so much as a person in ways that I couldn't have imagined before. I've volunteered on various placements such as Marjorie Warren ward, the Wellbeing Hubs, and the office; as an Emergency COVID-19 Response Volunteer and as a volunteer guide. All experiences will always have a place in my heart for teaching me such amazing lessons and skills.
"I volunteered at King's as I was looking for something to gain more confidence from, help the community and gain experience within a healthcare environment. I came across King's just by researching possibilities like these and just decided to go for it!
"I enjoyed how no two weeks were ever the same. I turned up never knowing what to expect (but in an exciting way). I also loved the conversations I had with the different people I met, such as patients, staff members and volunteers – each one either taught me something new, grounded me, challenged me or made me smile, and I am so grateful for that.
"During the pandemic, I became an Emergency COVID-19 Response Volunteer, which was such a rewarding experience for me. It gave me regularity every week and made me feel useful, which in turn improved my mental state at the time. I will forever be grateful to King's for this.
"If you're thinking of volunteering, I would say just do it, it is so worth it! Anything might be a bit nerve-wracking before you try it, but if you don't go for it, you will never get to have such a wonderful experience and one that broadens your knowledge, self-confidence, and communication skills."