"The PRUH is important to the communities we serve, and a key part of Team King's"
23 July 2023 - A joint message from Professor Clive Kay, Trust Chief Executive and Jonathan Lofthouse, Site Chief Executive for PRUH and South Sites, as we mark 20 years since the PRUH officially opened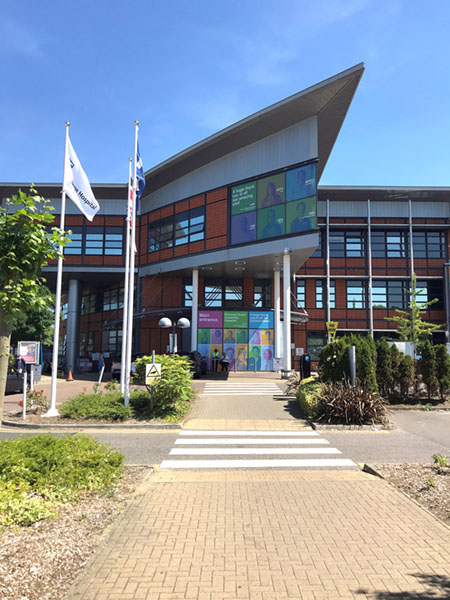 Twenty years ago today (23 July), The Princess Royal officially opened the Princess Royal University Hospital (PRUH) in Farnborough Common, which formally became part of King's College Hospital NHS Foundation Trust just under 10 years ago.
Known affectionately as 'the PRUH', the hospital serves a population of over 321,000 people in Bromley, but also treats people from further afield. Over 4,000 highly skilled staff provide a range of district general and specialist services, and all are valued members of Team King's.
Our colleagues at the PRUH also provided a vital service for patients during the COVID-19 pandemic, and the hospital was one of the hardest hit by the virus – yet despite this, staff at the PRUH went above and beyond, caring for nearly 5,000 COVID-19 positive patients to date.
This week, colleagues based at the PRUH have talked about why the hospital is so special to them. They include:
"I enjoy the teamwork in the Emergency Department and the rest of the hospital. The best moment is that everyone works together really hard to try and keep patients safe. Working at the PRUH is like working in a family" – Dr Claire Gray, Consultant in Emergency Medicine
"The PRUH feels like a small friendly town and there's a lovely atmosphere here. I really enjoy providing emotional and pastoral support to staff members. Happy Birthday PRUH, keep going with the hard work, you're doing a great job" – Alison Davies, Chaplain
"I've been here 18 years and no two days are the same. I enjoy working with patients and helping as much as I can. Every day is like a memory. Happy Birthday PRUH! I've been a patient as well as a staff member so thank you for all that you've done for me" – Andrea Webb, Radiology Administration Assistant
"I want to wish everybody at the PRUH a very warm anniversary. Twenty years is a wonderful thing" – Abdul Seisay, Practice Facilitator, Infection Prevention and Control
"Happy Birthday PRUH! My best memory of the PRUH is how all the staff handled all that was thrown at them during the COVID-19 pandemic , I think we all did a fantastic job!" – Michelle Drury, Private Patients Coordinator
"I used to be the laundry manager at the original Farnborough Hospital, which was knocked down to make way for the PRUH. I helped set up the services in the new hospital, and it was really strange walking around a completely empty hospital! I have a passion for the PRUH – many staff have worked at the hospital for a long time, and the people are so very friendly, and it feels really close-knit, as many staff live locally" – Micky Moore, Head of Business & PFI Performance
In addition, Dr Angela Bhan, Bromley Place Executive Director said: "I have a long association with the hospital, and my son was born at the original Farnborough Hospital, where the staff were superb, but the new PRUH building that replaced it is so much better! I was fortunate to be involved with the planning of the PRUH, and whilst it was a long time ago, I remember how excited local people were about it. The staff make the PRUH what it is, though, which is why local people value the hospital so highly."
At King's, we are fortunate that so many talented people choose to start and build their careers with us – and the PRUH offers a unique opportunity to care for a wide range of patients and conditions, and be part of a close-knit community of people that always puts patients' needs first.
The family feel at the PRUH is also one of the reasons why it benefits from so much support locally, and we are lucky that our local stakeholders care so deeply about the PRUH, and want us to succeed.
This is part of the PRUH's unique appeal, and as the PRUH marks its 20th anniversary, we would like to say thank you to the colleagues who make it such a special place to work, and for the goodwill that exists for the hospital locally – this is something we value, and will never take for granted.