Team King's is shortlisted for top nursing accolades
15 August 2023 - Dr Agimol Pradeep BEM and Dr Dilla Davis announced as finalists in a number of major industry awards.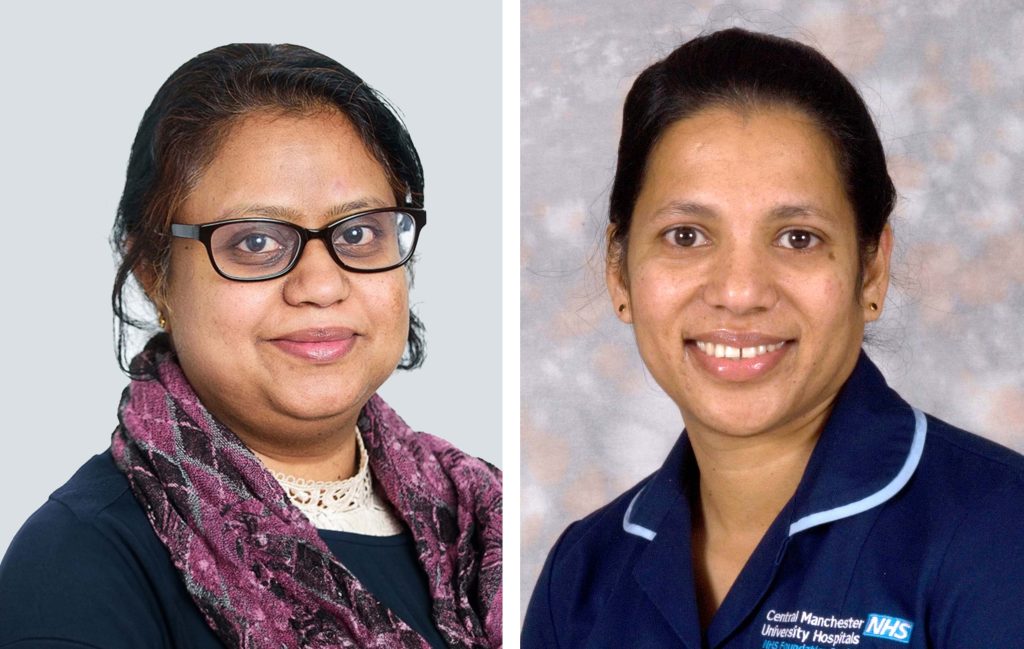 Dr Agimol Pradeep, liver transplant coordinator at King's and Dr Dilla Davis, lecturer in nursing education at King's College London, have been recognised by the Royal College of Nursing (RCN), the Nursing Times and the Health Services Journal (HSJ) for their successful campaign work to allow more internationally educated healthcare professionals to join the UK register, meaning they can work as qualified professionals in the NHS.
During the COVID-19 pandemic, Dr Agimol Pradeep became aware of the experiences of internationally educated nurses who were not recognised by the Nursing and Midwifery Council as qualified nurses in the UK. She explained: "I realised that there are a huge number of nurses who have been in the UK for over a decade, working as unregistered practitioners despite trying multiple times to meet the English language requirements to achieve their registration. Living in this limbo of completing the UK nursing registration can have a huge impact on a person's wellbeing, leaving them feeling invisible, undervalued and underpaid."
Together with Dr Dilla Davis, Dr Agimol Pradeep led a campaign to successfully persuade the Nursing and Midwifery Council to implement the Supporting Information From Employer pathway, allowing hundreds of internationally educated nurses and healthcare professionals to achieve professional recognition in acknowledgement of their clinical skills and ability to safely speak English. For this, the pair have been shortlisted for the prestigious RCN Innovations in Your Specialty Award, and the Nursing Times Dame Elizabeth Anionwu Award for Inclusivity in Nursing and Midwifery 2023. The campaign has also been shortlisted for the HSJ 2023 NHS Race Equality and Workforce Initiative of the Year awards.
Dr Dilla Davis added: "At a time when there is a great need for qualified nurses, we wanted to remove the barriers to becoming a qualified nurse in the UK. Far too many internationally educated nurses are working as unqualified health care assistants, even though they have the skills and expertise to provide excellent and safe patient care. It is great to see people who are qualified with a masters or degree in nursing finally achieve registration and flourish in their career in the UK."
Tracey Carter, Chief Nurse at King's College Hospital said: "It is important to recognise the insight and tenacity shown by Dr Agimol Pradeep and Dr Dills Davis to benefit international nurses across the UK to be able to be properly rewarded for their skills and contribution to the NHS.  We are very proud that they are part of the King's nursing community, supporting inclusion across the national workforce."