South London Trusts launch Clean Air Plan
21 June 2023 - King's College Hospital Foundation Trust has published its first Clean Air Plan in partnership with Guy's and St Thomas' NHS Foundation Trust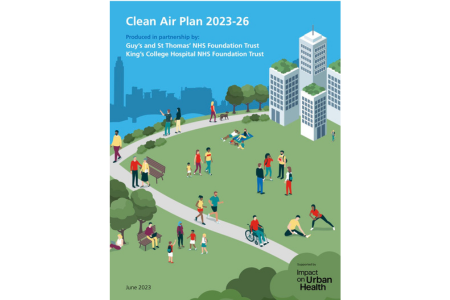 Launched this month on Clean Air Day (15 June), the three-year plan outlines how air pollution will be addressed, while raising awareness of the issue and ultimately improving the health of patients, staff and local communities.
The plan outlines five areas of focus: transport, procurement, buildings and sites, awareness raising, and engagement and communications.
Poor air quality is the largest environmental risk to public health in the UK.
Every single hospital, medical centre and care home in London is located in an area that exceeds the World Health Organisation's guidelines for the concentration of air pollutants.
Key commitments in the 2023-26 plan include expanding ambient air quality monitoring, then targets set to reduce pollution for 2024/25.
There will be greener choices for transport with more e/cargo bikes for staff working in community and satellite teams across the Trusts, as part of a commitment to reducing the number of vehicles on the roads.
Tanja Dalle-Muenchmeyer, Air Quality Manager at Guy's and St Thomas' and King's College Hospital NHS Foundation Trusts said: "Clean air is essential for our health and the health of the planet. Improving air quality has significant benefits including preventing illnesses, reduced health inequity and enhancing the environment we live and work in.
"We are delighted to publish our first Clean Air Plan setting out the actions we are taking. We've identified 5 focus areas and 27 priority actions for 2023/24 that will help us reduce our own contribution to air pollution and raise awareness of the issue amongst a wide range of people including our patients and staff."
Find out more about sustainability at King's and Guy's and St Thomas'.