Site Chief Executive appointed at King's College Hospital
22 April 2021 - Julie Lowe will oversee the site leadership team, ensuring services provide optimum patient care, quality, safety and experience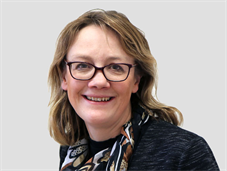 Julie Lowe has been appointed into the substantive role of Site Chief Executive for King's College Hospital, following a competitive recruitment process.
With responsibility for performance and operational delivery, Julie held this Board-level post on an interim basis since September last year. In that time, she has demonstrated a passion for engaging our people and patients to deliver the very best.
These skills have been demonstrated in the way the Trust has delivered its response to the COVID pandemic second wave, as well as in the subsequent restoration and recovery of clinical services.
Julie will continue to oversee the site leadership team, ensuring services provide optimum patient care, quality, safety and experience.
As a member of the Trust Board, she will also share corporate responsibility for the overall strategic direction, culture and operational management of the Trust to deliver its objectives and outcomes.
This will be particularly important as the Trust continues its mission to become "Outstanding" for our patients, our communities and each other.
Julie brings three decades' experience to King's, having joined the NHS in 1992 as a national management trainee. She has worked in hospitals in London, Yorkshire and Hertfordshire in a variety of positions, including nine years in Chief Executive roles.
Prior to joining King's, Julie spent three years as Programme Director for the South East London Integrated Care System (ICS).