Patients move to the beat with King's music therapy project
20 October 2023 - Former ICU patients at King's are benefiting from music therapy to help with their rehabilitation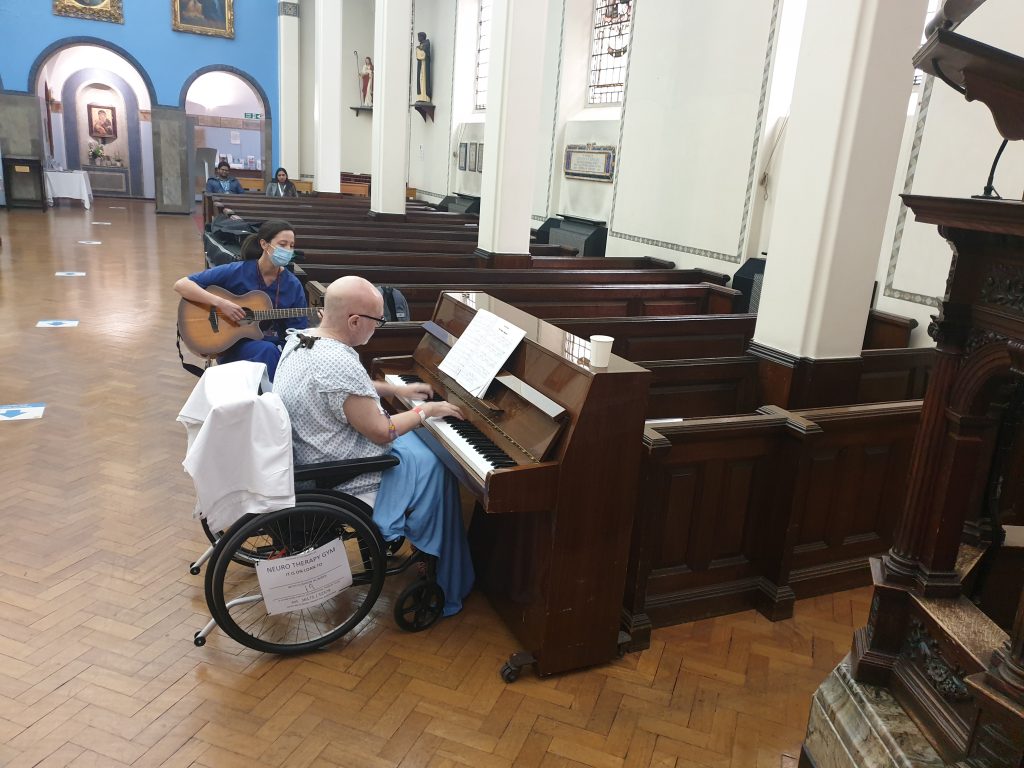 Staff at King's College Hospital have teamed up with the charity Nordoff and Robins and King's College Hospital Charity to bring a musical interlude to patients at King's who have been critically unwell. Over the past seven months, a music therapist has been working with patients who have spent many weeks in the hospital's Intensive Care Unit (ICU), with support from the Trust's Chaplaincy team.
Sophie Hadfield, Deputy Director of Nursing at King's College Hospital, explained: "Patients who survive a critical illness and spend long periods in ICU can be left facing a long road to recovery. Experiencing a life-threatening condition can have a powerful psychological impact on patients and their families, and making sure people have the support they need to rebuild their lives is so important. 
"This is the first time King's has developed a music therapy programme specifically for former ICU patients. We know this type of therapy can help with communication, motivation, and concentration, and patients who have taken part in our sessions have said it's also helped with their physical strength and emotional wellbeing."
One patient who has benefitted from music therapy sessions at King's College Hospital is Adrian Pilbeam, 59, a retired musician from Lewisham, who was admitted to ICU with a perforated bowel in December 2022. He spent over 50 days in ICU before he was discharged to a general ward to continue his recovery. He said: "I was fit and active before my illness, but after coming out of ICU, I had to re-learn everything. I couldn't hold a cup.
 "There's absolutely no doubt that King's saved my life, and now these music therapy sessions are helping me to rebuild it. I didn't know if I'd be able to play an instrument again, and here I am playing the piano. Music has been part of my life since I was five years old, and I don't think I could face the road to recovery without it."