Outstanding Care from our bereavement teams
13 October 2021 - As part of Baby Loss Awareness Week, we look at the work of two of our bereavement teams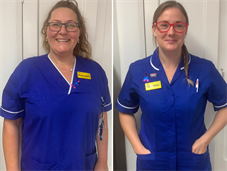 Bereavement midwives
At King's we have a small but dedicated team of bereavement midwives and a doctor who support families whose babies have died before, during or shortly after birth.
As bereavement midwives, they are committed to providing Outstanding Care by helping families that have experienced baby loss to navigate the journey that lies ahead. This includes helping families to acknowledge and understand their grief and loss; ensure precious memories of their time with their baby are made; assist with funeral arrangements and spending time with their baby after discharge from hospital; support with siblings affected by loss; and help identify the cause of their loss and what this experience may mean for their future.
They support families in future pregnancies, act as advocates and work with outside organisations and employers to ensure families get the help they need.
Paediatric bereavement team
In addition to our bereavement midwives, we also have a paediatric bereavement team, which comprises two paediatric clinical nurse specialists who care for families before, during, and after the death of a baby or child under the age of 18.
The team facilitates opportunities for families to make memories in the precious time they have with their child, whether this is making clay prints, cuddling their child in their final moments, or facilitating parents to have time to care for their child after death. If, for whatever reason, families are unable to take on this care, the paediatric bereavement team will do this for them.
Anne-Marie and Christina from the Paediatric Bereavement Team, said, "No day is ever the same in this role and every baby, child, and family is different. As a team we work hard to ensure each and every family have the opportunity to be a parent to their child in whatever form this may take for them."