Our people – celebrating Black History Month
12 October 2021 - Althea D'Oyley-Bowen highlights the importance of encouraging honest conversations about inclusion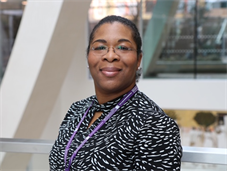 October is Black History Month, and over the coming weeks, we are celebrating just some of the many black staff who work at King's.
Althea D'Oyley-Bowen is one of our heads of nursing, and her role involves managing the recruitment of international nurses and allied healthcare professionals to King's, and other Trusts throughout the UK. Althea has worked at the Trust since 2017.
"Celebrating Black History Month is so important, because it helps encourage honest conversations about inclusion within our organisation.
"So much has changed over the years, but there is still a huge amount more to do – and the more we combat and challenge systemic and institutional racism within society, the better. This includes supporting and encouraging more BAME staff to take up senior roles, including within the NHS.
"It's also so important to celebrate the contribution black people have made and continue to make, many of whom have paved the way and carried the baton forward."
Althea added: "At King's, there is clearly a desire to make progress around issues relating to equality, diversity and inclusion – this is great, and the type of organisation I want to be part of, because staff feeling heard and recognised for the contribution they make, regardless of the colour of their skin, is so, so important."