#NewProfilePic for September
31 August 2021 - Every month, a different member of staff will be our #NewProfilePic on social media.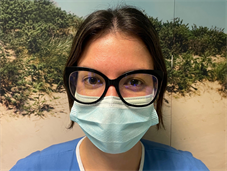 This month (September 2021), it's Charlotte Perth, Sister on our paediatric critical care centre at King's.
Charlotte has worked at the Trust for three years, and "loves helping kids get better so they can go home to their families."
Charlotte is a key member of the team on Thomas Cook Children's Critical Care Centre at King's, which treats some of the sickest paediatric patients in the region requiring hospital care.
At any one time, the team on Thomas Cook will care for up to 16 paediatric patients requiring intensive or high dependency support.
Charlotte says: "No one likes seeing children become unwell, and it can be really challenging at times – but equally, it's incredibly rewarding to be able to support children and their families, and seeing many of our patients go home fit and well is a big bonus of the job."
She added: "I am really proud to say I work at King's. A big part of the job satisfaction comes from being part of such a committed team, all of whom care deeply about children, and giving them the very best care we possibly can."
You can follow the Trust on social media via Twitter, Facebook, Instagram and LinkedIn.