#NewProfilePic for September 2023
01 September 2023 - Every month, a different staff member will be our #NewProfilePic on social media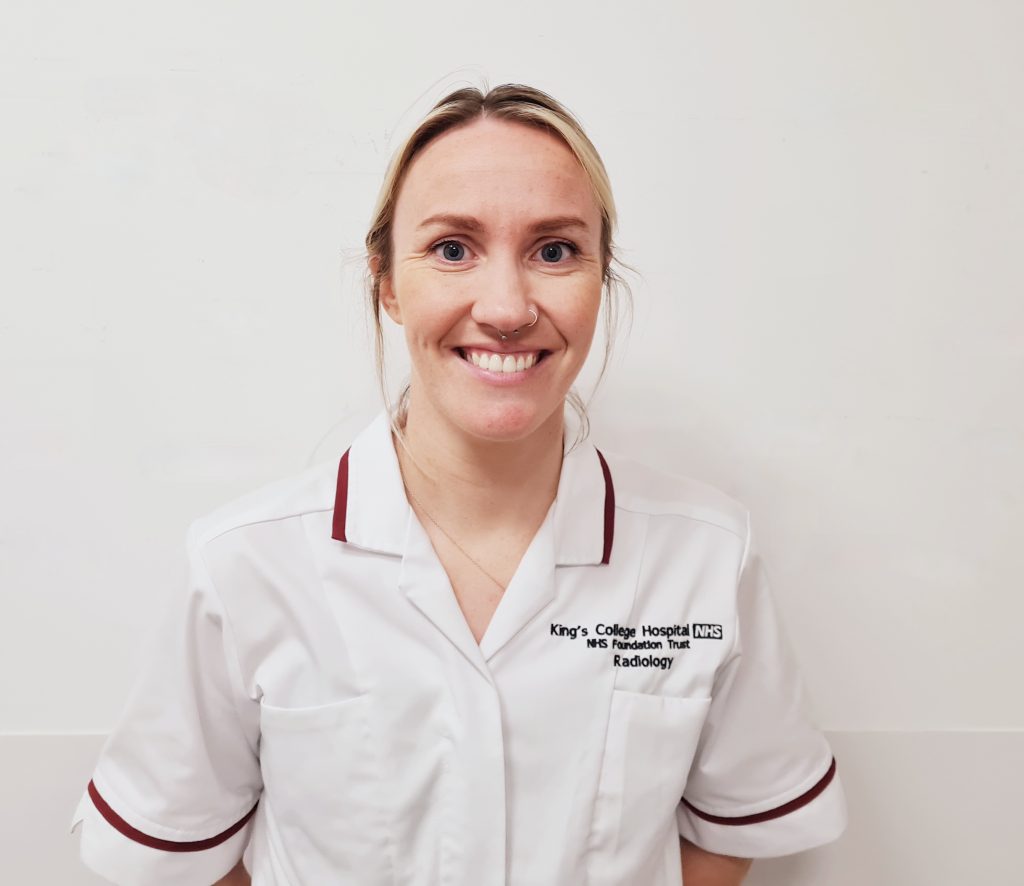 Our new staff profile for September 2023 features Cara Nagle, a Diagnostic Mammographer at King's College Hospital and our Mobile Screening Units – located around Southeast London to make it easier for women to attend. Cara describes how she helps women have a positive mammogram experience. Cara said: "I enjoy working at King's as it's a fantastic teaching hospital. Since I started in September 2019, I've learnt multiple new skills. I also have amazing colleagues."
What sets your role apart for both you and the patients you care for?
"I play a vital role in the early detection and diagnosis of breast diseases, primarily breast cancer. This role includes a unique combination of technical expertise, patient care and contribution to women's health.
"Mammographers work closely with patients during imaging procedures, offering comfort, reassurance, and clear instructions. Patients might experience anxiety during mammograms, therefore mammographers create a supportive environment. We collaborate with radiologists and other medical experts, providing high-quality images essential for radiologists to analyse and diagnose breast conditions."
Is there anything interesting about your role at King's that people may not know about?
"Before becoming a Mammographer, we must undergo training as a Diagnostic Radiographer. This means some of us are trained in X-ray, CT, Interventional radiography and MRI before going into mammography. We possess specialised training in imaging techniques and technologies used in breast imaging. This includes knowledge of positioning techniques to get clear images, understanding the operation of mammography equipment, and being familiar with new technologies like digital mammography and 3D Tomosynthesis."
October is Breast Cancer Awareness Month, which is only one month away. Why is this important, and what does this mean to you and the patients you care for?
"Breast Cancer Awareness Month holds significance as it increases awareness of the disease and raises funds to research its cause, treatments and cure.
"One aspect of awareness is public education. Breast Cancer Awareness Month teaches the signs and symptoms of breast cancer and the prevention, encompassing self-examination technique, accessing proper screening, and the importance of routine mammograms. Additionally, the month highlights new treatment options and surgeries for breast cancer patients."
Any memorable moments you've experienced at work?
"A patient arrived for her first mammogram; appearing anxious and uncertain due to hearing stories of discomfort and anxiety associated with mammograms. I greeted her with a warm smile, and took a few moments to chat, putting her at ease. She shared her concerns, expressing her anxiety. I listened attentively and explained the process step-by-step, assuring I would make the experience as comfortable as possible and explained the importance of the mammogram in detecting any potential issues early. As the procedure began, I positioned the lady comfortably, ensuring she understood what was happening at each stage and conversed, asking about her interests to divert her attention. Once the mammogram was complete, I informed her that a radiologist would review the images and that she would receive the results promptly. She appeared to leave the department feeling grateful. What could have been an anxiety-inducing experience turned into a positive one for her."
What can patients do to prevent Breast Cancer?
– Regular Screenings: Adhere to recommended breast cancer screening guidelines. Mammograms and clinical breast exams are essential tools for detecting breast cancer in its early stages when treatment outcomes are better.
– Breast Self-Exams: Although breast self-exams cannot replace professional screenings, being familiar with your breasts' typical appearance and feel can help you notice any changes promptly. Find out how to check your breasts with online NHS guidance
– Stay Informed: Stay up-to-date with the latest research and guidelines related to breast cancer prevention. Consult with your healthcare provider to make well-informed decisions about your health.
– Healthy Diet: Focus on a balanced diet rich in fruits, vegetables, whole grains, lean proteins, and healthy fats.
– Regular Physical Activity: Engage in regular physical activity.
– Don't Smoke: If you smoke, quit. Smoking has been linked to an increased risk of several cancers, including breast cancer.
– Know Your Family History: Be aware of your family history of breast cancer, ensuring your doctor is also aware. If you have close relatives diagnosed with breast cancer, your risk may be higher. This information can help guide your screening and prevention strategies.