#NewProfilePic for October
01 October 2021 - Every month, a different member of staff will be our #NewProfilePic on social media.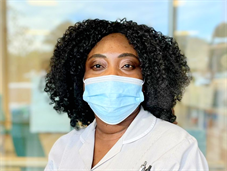 This month (October 2021), it's Esther Appah, Healthcare Assistant (HCA) in the Medical Ambulatory Speciality Unit at the Princess Royal University Hospital (PRUH).
Esther has a varied role, which has taken her to a variety of wards and units at the PRUH. She said, "Working as HCA in the Medical Ambulatory Unit with my lovely and supportive team has really developed my clinical skills in continuing to provide safe care to our patients. It has also encouraged me to further my nursing career in the future.
She added, "I support the nursing team to check patients' blood glucose; support with urine analysis; electrocardiograms (ECG); pregnancy tests; COVID swabs; MRSA swabs; and bladder scans. I also provide refresh snacks and hot drinks to some of our outpatients who have a long stay at the unit; run patients' venous blood gases (VBG) and arterial blood gases (ABG); collect patients' blood from the blood bank and phlebotomy; support doctors when they're seeing patients, and so much more!
"The most important thing is that our patients are happy, comfortable, and smiling. We receive cards from our patients, acknowledging our team and the great care we provide.
"I am proud to work for King's because of the support staff receive and the care we deliver to patients."
You can follow the Trust on social media via Twitter, Facebook, Instagram and LinkedIn.