#NewProfilePic for November 2023
01 November 2023 - Every month, a different staff member will be our #NewProfilePic on social media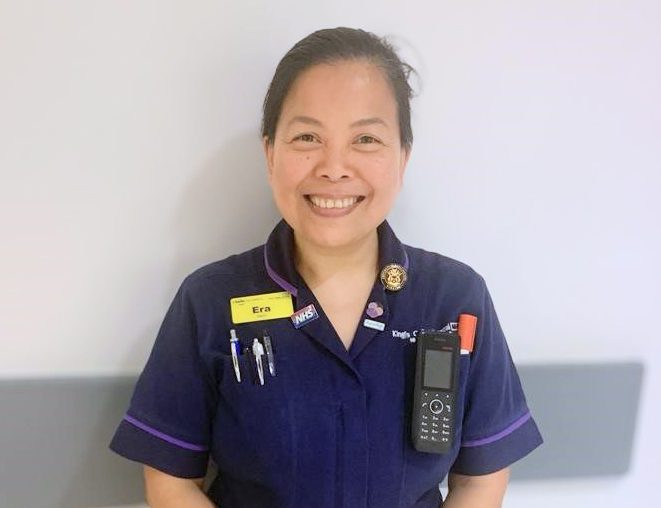 Our staff profile for November 2023 features Estrelita Balentogo, Liver Matron. Estrelita joined King's in 2016 and said: "I enjoy working here because I work alongside the most amazing team of nurses. I have fantastic senior support also and that's vital in this job."
What sets your role apart for both you and the patients you care for?
"In my role, I have a nice combination of clinical and management roles. This way I am able to interact with patients directly, but also be senior enough to work with others to make change happen and improve patient care. Hepato-Pancreato-Biliary is a specialty that's close to my heart. It is challenging but can be very rewarding also. We are always looking for ways to raise awareness about Pancreatic Cancer to work towards early diagnosis and treatment.
Any memorable moments you've experienced at work?
"I looked after an elderly patient once and she could barely move her hands. But she raised her hands to cup my face in her hands and said thank you. I'll never forget that moment. Occasions like that keep me going, especially during challenging days."
November is Pancreatic Cancer Awareness Month, why is this important to mark, how can patients be aware of symptoms and get help?
"Pancreatic cancer is one of the most difficult cancers to diagnose because of its late presentation. It is so important to raise awareness of the symptoms so people can be aware of the importance of getting checked because an early diagnosis means better treatment options. November is Pancreatic Cancer Awareness Month, so we have reached out to colleagues to help us by changing the LED light colour to purple for the whole month of November of the Hambleden Wing, King's College Hospital.
Symptoms of pancreatic cancer can include:
· Tummy pain or back pain (mid back)
· Unexplained weight loss or reduced appetite
· Jaundice (yellow skin or eyes and itchy skin)
· Change in bowel habit
· Pale and smelly stool
· Indigestion
If you need support or advice, please contact your GP or visit the NHS website."