#NewProfilePic for May 2023
02 May 2023 - Every month, a different member of staff will be our #NewProfilePic on social media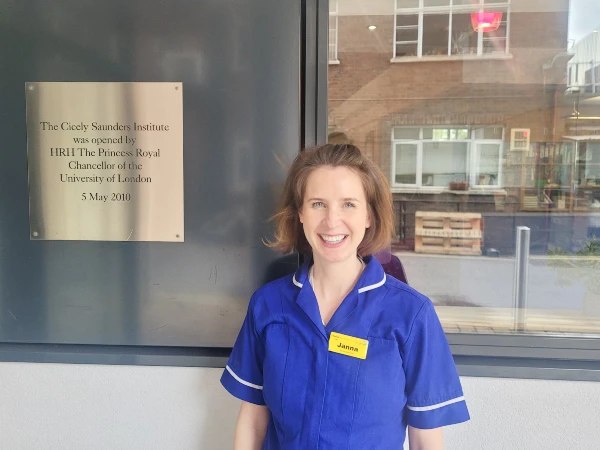 This month's new profile picture features Janna Nagy, a Palliative Care Clinical Nurse Specialist (CNS) at King's College Hospital.
Janna first joined King's Intensive Care Unit in 2009. In 2014, she joined palliative care in the community and returned to experience hospital palliative care in January 2021.
What makes the role special to you?
Building such intimate and personal relationships with patients and loved ones. Everything you do or say can add significant value. 
Are there any memorable moments in your role?
I met a really inspiring patient recently and unfortunately, during his hospital admission, he was diagnosed with a glioblastoma and had a very poor prognosis despite being independent of his Activities of Daily Living (ADLs) at the time. He was very open about dying and was not afraid or angry, but rather at peace, even though he understood he would be leaving so much behind when he died. We transferred him to the hospice, and shortly afterward, he died there. This person showed me gratitude for life and was not remorseful of his short life. 
Is there anything interesting about your role at King's that people may not have known?  
People in and out of the hospital often describe my job as very sad and are interested in understanding how I cope. However, I challenge that and explain that God has given me a gift, a skill to do palliative care. We all have different gifts in life, and I certainly cannot picture myself doing a different job. Palliative care is much more than sadness; to me, it's an opportunity to share and connect with others. 
This month includes Dying Matters Week (8 to 14 May), why is this important to mark?
The population is increasing, and this will only continue to rise in the future with people experiencing more co-morbidities. Understanding individuals and their loved ones' wishes through a holistic approach, whatever stage in the disease process or whether people have experienced a loss in their life, is crucial. Promoting an open culture means everyone in the community can work towards supporting one another and ensuring people do not suffer in isolation.