New link-bridge at the PRUH incorporates Intersex-Inclusive Pride flag design
02 June 2023 - A new link-bridge at Princess Royal University Hospital (PRUH) in Farnborough was officially opened today (Friday 2 June), and proudly features a large reproduction of the Intersex-Inclusive Pride flag, designed by Valentino Vecchietti.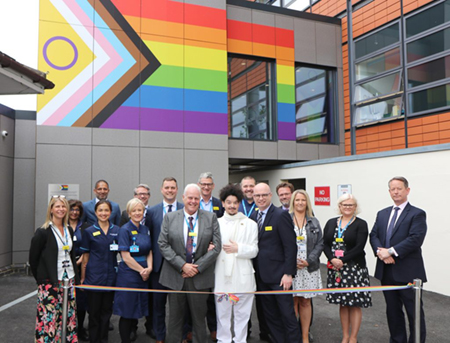 Construction for the new, covered link-bridge started in May 2022, and the walkway – now finished – connects the PRUH's Day Surgery Unit with the main hospital, so enhancing accessibility and allowing patients and staff to get around the site more easily.
The 30 metre walkway at the PRUH also features a re-production of the Intersex-Inclusive flag on its exterior, designed by intersex equality campaigner Valentino Vecchietti.
The flag is a visible demonstration by the Trust of its commitment to equality and diversity, and supports the organisation's efforts to become more inclusive as set out in King's Roadmap to Inclusion published in May 2022.
The Intersex-Inclusive Pride flag was created by Valentino in 2021, and involved adapting the Pride Progress flag to include the intersex flag. Valentino attended the opening of the link-bridge and unveiling of the flag, and said:
"I am delighted to see the PRUH's commitment to diversity and inclusion. The Intersex-Inclusive pride flag is a meaningful symbol for our LGBTIQ+ community. It tells us that we are welcome, safe, and included.
"Whether we work in the hospital, are here to welcome a new birth, visit a loved one, or if we ourselves are in need of hospital treatment, I hope that the love and humanity in our beautiful Pride flag will provide a gentle and uplifting space for all who need it."
Professor Clive Kay, Chief Executive of King's College Hospital NHS Foundation Trust, of which the PRUH is part, added:
"The new bridge is part of our work to make sure patients and visitors have the best experience possible when they visit us. We were also delighted to be able to feature the Intersex-Inclusive flag as part of its design.
"In the year that the NHS celebrates its 75th anniversary, the flag's inclusion in the building's design is a creative and visible way of communicating our commitment as an organisation to equality, diversity and inclusion, which is a vital part of the care we provide."