New electronic patient record goes live
05 October 2023 - Joint go-live of the new system across King's and Guy's and St Thomas' is the biggest ever single go-live of Epic's electronic patient record anywhere in the world.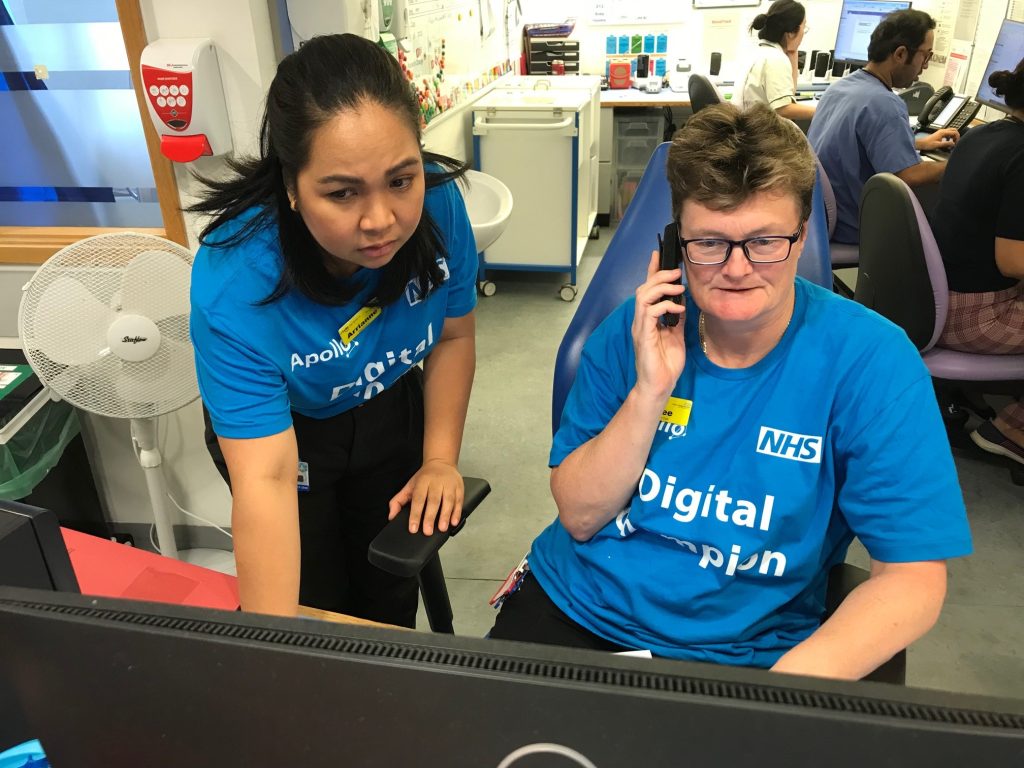 Patients and staff across King's College Hospital and Guy's and St Thomas' NHS Foundation Trusts are set to benefit from a 'game-changing' new electronic patient record, which officially launched across both Trusts on Thursday 5 October.
The launch of Epic integrates hundreds of varied IT systems previously in use across both organisations into one single, electronic system, giving staff a complete overview of a person's care, and freeing up more time to spend on patient care.
Epic was officially 'switched on' at King's and Guy's and St Thomas' at 6am on 5 October. It follows years of detailed planning by hundreds of teams from both Trusts, which included the secure migration of patient information from a number of historic IT systems and paper records into the one single system now in use.
Simultaneously, Synnovis, a partnership venture between the two Trusts and SYNLAB, has gone live with a new Laboratory Information Management System which consolidates the Trusts' multiple systems into one, also powered by Epic.
This is the largest single go-live of the Epic system anywhere in the world, and the new system will support staff across both Trusts to bring about major improvements to the way they deliver care.
More comprehensive data, provided in real-time, will support the delivery of improved patient outcomes, higher quality research, and advanced service planning. New kit and software will help speed up observations, patient monitoring, and prescribing, and will provide a new platform for innovation, from voice recognition to the future incorporation of third-party technology.
The launch of Epic also sees the introduction of MyChart, a new app and online service that puts information about their own care in the hands of patients. MyChart allows patients to securely and easily access their health record, giving them more control over their care.
Professor Clive Kay, Chief Executive at King's College Hospital NHS Foundation Trust, welcomed the successful launch of Epic across both Trusts. He said:
"This is a real game-changer for staff and patients across both Trusts, and I am delighted that we are introducing a truly transformative electronic patient record across both organisations.
"Our staff deliver first-rate patient care every day, and with Epic, it won't matter which hospital or community setting patients are treated in – staff will be able to access their information at the touch of a button. I am pleased that we now have a system in place that will make their working lives easier, and empower them to innovate for the benefit of patients."
Professor Ian Abbs, Chief Executive of Guy's and St Thomas' NHS Foundation Trust, added:
"The launch of Epic across Guy's and St Thomas' and King's has been years in the planning, and delivers the technology that our patients and staff truly deserve. I am delighted that they are now able to benefit from the new system, including our new patient app MyChart, and its potential to improve the care we provide.
"I am incredibly proud of our teams, who have worked extremely hard to get this fantastic new system live – and over the coming weeks and months, I am confident we will begin to see the full benefits of Epic realised for patients, and staff."
The launch of Epic has required careful planning over a number of years, with activity intensifying in recent months. Delivered through the Apollo programme, a joint programme of work across the three partner organisations, staff have mapped the go-live out to the last detail.
This has included the installation of new technology and devices across multiple sites, the safe transfer of patient data from old systems to new, and a comprehensive launch plan including 'on-the-floor' support for staff and regular communications with patients and the public.