King's trial to investigate fibroids link to blood clots
31 March 2023 - The trials aims to establish whether uterine fibroids could increase patients' risk of developing blood clots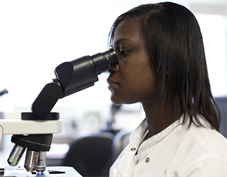 King's College Hospital has opened a new clinical trial to establish whether patients with uterine fibroids have a tendency to develop blood changes that could increase their risk of developing blood clots.
Treating patients with uterine fibroids and blood clots can be challenging as fibroids frequently cause heavy menstrual bleeding, which can be exacerbated by the treatment for blood clots, resulting in iron deficiency anaemia.
Dr Obianuju Nzelu, Clinical Fellow in Early Pregnancy and Gynaecology, who is leading the trial at King's said, "We have suspected a link between uterine fibroids and blood clots for some time, but until now the evidence has been anecdotal. Through this study, we hope to confirm, either way, whether there is a link between the two conditions.
"During the trial, if blood changes are detected in patients with uterine fibroids, and this is considered as their sole risk factor for blood clots, a new approach to the assessment and risk-management of a large number of patients may be justified."
To be eligible to join the study, participants must have a confirmed diagnosis of uterine fibroids, be aged between 18 and 65, and must not be taking hormone medication of any kind.
For more information contact Dr Obianuju Nzelu by email at [email protected].