King's team ranks high for research output
26 August 2021 - King's neurosurgery ranked amongst very best for academic and research output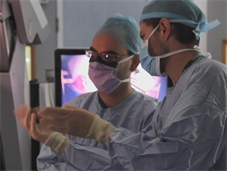 Analysis of data collated by Web of Science shows that the neurosurgery team at King's College Hospital NHS Foundation Trust are amongst the most productive in the UK when it comes to academic and research output.
King's is a major regional centre for neurosurgery, treating thousands of patients every year. As well as providing direct patient care, the neurosurgery team at King's also undertake academic and research projects to support and improve clinical practice.
Between 2011 and 2020, the neurosurgery team at King's ranked third out of over 30 neurosurgery centres in the UK for their academic and research output.
This is a significant achievement, as academic and research activity helps improve our understanding of the brain, and in many cases, supports the development of new treatments for patients.
Keyoumars Ashkan, Professor of Neurosurgery and Academic Lead at King's, welcomed the news. He said:
"This is really positive news and a big credit for the neurosurgical team at King's, as well as the patients we treat, and the communities we serve.
"The very best centres in the world combine high quality patient care with research to further their knowledge of the brain and its disorders. This is the key to bringing in new and novel therapies for our patients; after all, they deserve nothing less.
"We are only able to do this at King's through the support of our colleagues and, as important, the willingness of patients to participate in research and clinical trials."
You can access the abstract from World Neurosurgery online.
King's is part of King's Health Partners Academic Health Sciences Centre, which brings together world-class research, education and clinical practice together for the benefit of patients.