King's supports young people to secure lifelong employment
30 September 2021 - King's has partnered with local colleges and councils to deliver an internship programme to young people living with learning disabilities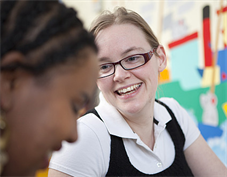 Two young men from Lambeth, who live with a range of disabilities, including autism and attention deficit hyperactivity disorder (ADHD), are preparing to embark on an internship at their local hospital.
Terrell Kakou-Bruce and Jamie Anderson, aged 23 and 18 respectively, say more needs to be done to ensure disabled people have a fairer chance to enter the workplace. They hope that their internship will equip them with the skills to secure long-term paid employment.
King's College Hospital NHS Foundation Trust has partnered with colleges across Lambeth and Bromley and their local councils, and charity DFN Project SEARCH, to deliver a supported employment internship programme to young people living with autism and learning disabilities, who often struggle to find work.
According to the UK charity Mencap, people with a learning disability are less likely to have a job than the general population. Data gathered by NHS Digital reveals that only 6% of adults with a learning disability who are known to their local authority in England, are in paid work.
The two young men are among 15 interns, in full time education, who will be based across two of the Trust's sites (King's College Hospital and the Princess Royal University Hospital). They will be starting the first of three placements this month, before graduating in July 2022.
Terrell and Jamie will have the opportunity to complete tasks that contribute to the successful running of the hospital, which include sterilising medical equipment and providing administrative support.
Terrell Kakou-Bruce, who lives with autism and is visually impaired, reflects on his internship at King's: "Living with a disability means that I often need information to be explained in simple terms – no long words."
"I am grateful to King's for this fantastic opportunity to learn new skills. I hope that my confidence grows and that I'll feel more comfortable to approach people and start a conversation."
Jamie Anderson, who was diagnosed with ADHD and a learning disability aged 10, explains that understanding new information can be a challenge, but having lengthy sentences broken down and read out slowly can help.
Jamie adds: "I can't wait to update my CV with all the skills and experience that this internship will bring. Sadly, not everyone has the same chance to get into work but I hope that more internships are available to people living with a disability."
This is the first time King's is delivering the programme. The Trust is working with specialist education providers to ensure the interns are provided with tasks that match their individual interests and skills.
Professor Clive Kay, Chief Executive at King's College Hospital NHS Foundation Trust, who welcomed the interns to the Trust this month: "We're excited for our young interns to be joining Team King's, and I look forward to watching their confidence grow in their new roles. Entering the workplace can feel like a daunting prospect for many young people. For our interns, we are putting in place extra support including access to a mentor and on-site job coach, who will work alongside them in their new roles.
"As a Trust, we proudly champion diversity and inclusion in the workplace and strive to ensure our staff reflect the communities we serve. Our new BOLD strategy sets out how we plan to ensure each member of our diverse community receives the best care and is equipped with the tools to live a happy and healthy life."
Terrell and Jamie are among the interns at Denmark Hill who will be supported by Lambeth Council, Lambeth College and charity Unity Works. The providers aim to equip young people with the skills and confidence to apply for jobs and excel in the workplace using the DFN Project SEARCH's transition to work programme.
Emma Lord, DFN Project SEARCH Programme Specialist, said: "It is really exciting to be working with King's College Hospital NHS Foundation Trust for our new DFN Project SEARCH programme in Lambeth. There are so many skills and opportunities for the young people to learn inside such a diverse and inclusive workplace. The commitment to change the life chances of young people with learning disabilities and autism in the area is shared by all the partners in this great programme and we are really looking forward to welcoming the interns."