King's service named a Tessa Jowell Centre of Excellence
28 July 2021 - Brain tumour service recognised for highest standards of care, and access to the latest cutting-edge trials and research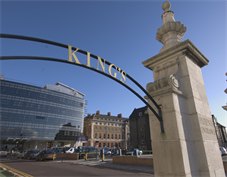 The neuro-oncology service at King's College Hospital has been designated a centre of excellence for the care and treatment of brain tumours by the Tessa Jowell Brain Cancer Mission (TJBCM).
The service at King's was measured on a range of criteria including excellent clinical practice and training opportunities; emphasis on patient quality of life; providing clinical trials; and offering a high standard of research opportunities.
Led by a committee of experts in the field and with virtual site visits, the assessments were backed up by patient feedback collected by The Brain Tumour Charity about the care they received in each of the centres that applied for the accreditation. In total, nine brain tumour centres in the UK – including Guy's and St Thomas' – received the accreditation.
For patients, getting treatment in a designated centre will mean that they can be confident that they receive the highest standard of care under the NHS and are able to access the latest cutting-edge trials and research, regardless of where they live. They will also gain greater visibility on where to access excellent centres. For centres, designation as a Tessa Jowell (TJ) Centre of Excellence will serve as a national recognition of their staff going above and beyond. The TJ Centres will also act as an important network for sharing and promoting best practice, as a way of supporting centres that are doing brilliant work but still need more help.
Following the announcement earlier this year of successful centres, a formal accreditation ceremony took place on 8 July. Professor Keyoumars Ashkan, Consultant Neurosurgeon at King's College Hospital, attended the ceremony at the Royal College of Physicians to accept the award on behalf of King's in front of several Peers from the House of Lords, and Tessa Jowell's daughter.
Professor Ashkan said, "It is an honour to be recognised as a Tessa Jowell Centre of Excellence. We are extremely proud of the brain tumour service at King's, which is made up of a skilled and dedicated team whose priority is always the needs of our patients."
"At King's, we pride ourselves on developing new treatments and groundbreaking surgical techniques, to help improve patient care and outcomes. We will continue to work hard to provide the very best service."
In 2017, Baroness Jessa Jowell – a prominent Labour politician who served as the Member of Parliament for Dulwich and West Norwood, close to King's – was diagnosed with a brain tumour. Before her death in 2018 she gave her powerful speech in the House of Lords recognising the need to improve brain tumour treatment, care and survival for all patients.
Since then the TJBCM has been leading on the Tessa Jowell Centre of Excellence designation initiative – an exercise designed to recognise and award neuro-oncology centres for their excellence in patient care.
Around 12,000 people are diagnosed with a brain tumour every year.