King's professor receives prestigious award
23 September 2021 - Professor K Ray Chaudhuri is the first clinician from King's to have received the honour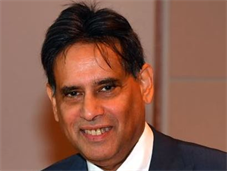 King's Research Director and Consultant Neurologist, Professor K Ray Chaudhuri, has received the Honorary Membership Award from the International Parkinson and Movement Disorders Society (MDS), for his world-learning research on defining the non-motor symptoms and genetic characteristics of Parkinson's disease. He is first clinician from King's to have received this honour since the awards started.
The non-motor symptoms of Parkinson's have a massive impact on quality of life of people with Parkinson's and often affect the individual's mental health, and can lead to memory, sleep, anxiety and depression related problems even at an early stage of the condition.
The Honorary Membership Award, which recognises researchers who have made extraordinary contributions to the field of Movement Disorders, was presented to Professor Chaudhuri last week (17 September) at the MDS Virtual Congress 2021.
Professor Chaudhuri, who is also the King's College London Professor of Movement Disorders and Neuroscience, and member of the King's Health Partners Neurosciences Institute, said: "I am delighted and humbled to have been awarded the Honorary Member status of the International Parkinson and Movement Disorders Society and join a group of distinguished names, such as the late David Marsden.
"I see this award as an acknowledgment of my research, with a sole purpose to improve the care and quality of life of Parkinson's patients at King's College Hospital, in the UK and across the world."
The International Parkinson and Movement Disorder Society is a professional society of clinicians, scientists, and other healthcare professionals who are interested in Parkinson's disease, related neurodegenerative and neurodevelopmental disorders, hyperkinetic movement disorders, and abnormalities in muscle tone and motor control.