King's Professor named UK expert
10 June 2021 - Professor Tim Jackson has been ranked a leading expert in wet age-related macular degeneration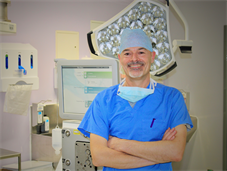 Professor Tim Jackson, Consultant Ophthalmic Surgeon at King's College Hospital and Professor of Retinal Research at King's College London, has been named the number one expert in England in wet age-related macular degeneration (AMD). The independent ranking, by Expertscape, was based on publications over the last decade.
AMD, of which there are two main types (Wet and Dry), affects patients over 50 and is by far the leading cause of sight loss in the UK. The condition develops when the part of the eye responsible for central vision is unable to function as effectively as it used to. Without treatment, vision can deteriorate within weeks or even days.
Professor Tim Jackson said: "Sight loss can be devastating. Eye research provides the best hope for over a million people living with AMD, and that's why our work is so vital. It is an honour to be named England's number one expert in wet AMD, and I and my colleagues will continue to do our very best for people living with AMD."
The King's Ophthalmology Research Unit (KORU), led by Professor Jackson, runs number of research trials, focussing on retinal disease and glaucoma. A notable example is the TIGER trial. Funded by Fight for Sight, the leading sight loss charity in the UK, TIGER is a pan-European, multicentre surgical trial of a clot-busting drug designed to dissolve potentially blinding haemorrhage due to wet AMD, led jointly by KCH and King's College London. Two hundred and ten participants across a number of European centres will be recruited to the trial, which aims to identify effective methods of treating AMD.