King's podiatrist receives award for "exceptional efforts"
29 September 2021 - King's Senior Podiatrist Joanne Casey has been recognised by the Royal College of Podiatry (RCOP)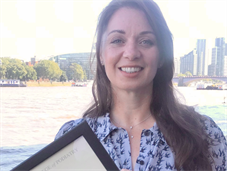 King's Senior Podiatrist Joanne Casey has been recognised by the Royal College of Podiatry (RCOP) for the extraordinary efforts she made to support patients and colleagues during the pandemic.
Joanne, who works in the Diabetic Foot Clinic, was awarded the new Ernest Runting Award at this year's RCOP awards. Joanne attended the ceremony at the House of Lords last Friday (24 September) to receive her award.
The RCOP has recognised Joanne's achievements following her redeployment to the Tissue Viability team at the start of the pandemic. Joanne was able to utilise her knowledge of lower limb infections and experience of wound care to review, diagnose and treat patients. During her five-month redeployment, Joanne also supported the face mask fit testing team, where she created videos for King's staff on how to wear protective masks and avoid skin reactions.
Joanne discovered that sewing groups across her hometown of Buckinghamshire were producing masks and headwear for NHS staff. She worked with the groups to deliver their creations to the Trust's sites and ensure staff could collect these from the health and wellbeing hubs.
During the Christmas period, Joanne volunteered to support colleagues in ICU and the hospital mortuary. Joanne was supported the vaccination programme, after witnessing first-hand the devastating effects of COVID-19.
Joanne said, "It's an honour to be recognised by the RCOP for my role at King's during the pandemic. Personally, this award demonstrates the value that podiatrists, like myself, can bring to a hospital setting and how agile we are in the face of adversity.
She added, "It also demonstrates how King's was able to redeploy colleagues, by matching people's skills and abilities to new areas where they could excel. I want to acknowledge my colleagues at across the Trust for their support. I accept this award on behalf of the efforts they made to ensure our patients received the best care."