King's patient urges a generation to check their breasts
01 October 2021 - Elizabeth was diagnosed with breast cancer last September, at the age of 31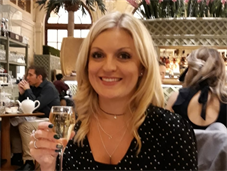 Elizabeth Anderton, who was diagnosed with breast cancer last September, at the age of 31, is urging young people to regularly check for lumps in their breasts. Elizabeth's plea follows the tragic passing of singer Sarah Harding last month.
This is the first time Elizabeth Anderton, now 32, is sharing the story of her diagnosis beyond her close family and friends. Elizabeth hopes that by doing so, she can encourage someone to check their breasts regularly and avoid the loss of someone's mother, daughter or friend.
When Elizabeth discovered a lump in her right breast in July 2020, her thoughts immediately turned to her maternal grandmother, who had breast cancer in the 1970s.
Due to her family history, Elizabeth had always been encouraged by her mother to regularly check her breasts. She recalls the moment she discovered the lump and says: "I'm aware that my monthly cycles can affect the size of my breasts, so I decided to wait for my period to pass."
Elizabeth continues: "I noticed that the lump reduced a week later. However, I started to experience pain in my right breast and there was nipple discharge, which was bloodstained, in my bra."
Following a telephone consultation with her GP, Elizabeth was immediately referred to the Princess Royal University Hospital (PRUH), part of King's College Hospital NHS Foundation Trust, for a biopsy and mammogram (breast x-ray). The tests confirmed a diagnosis of primary breast cancer, in early September, which meant that the cancer had not spread beyond the breast or the lymph nodes, located under the arm.
Elizabeth says: "As the lump was discovered early, my consultant advised that a lumpectomy, followed by rounds of chemotherapy and radiotherapy would, firstly, be the most effective treatment plan."
Elizabeth's consultant was optimistic that her early diagnosis would improve her chances of survival. However, she was faced with a life changing prospect – the fact that she may never have children. Often, cancer treatments can reduce the number of eggs stored or released from the ovaries – resulting in permanent or temporary infertility.
She explains: "Given my age and planned treatment, clinicians at the PRUH suggested fertility treatment that would involve freezing my eggs. I had recently entered into a new long-term relationship and I didn't just want the decision to be just taken out of my hands. My partner was incredibly supportive but I felt that we were forced into making a big decision, early on in our relationship."
Elizabeth completed her course of chemotherapy and radiotherapy at the beginning of this year. She is currently on an 18 session course of Herceptin injections, which is due to finish in January 2022. She is also taking the drug Tamoxifen, which she administers orally once a day. To reduce the risk of the cancer reoccurring, she must take this drug for the next five to 10 years.
Elizabeth reflects on the side effects and says: "During chemo, I often experienced bouts of sickness, hot flushes and had aches and pains across my body. I also lost hair across my body and parts of my head."
She also reflects on the care she received at King's and says: "I can't thank the staff enough. The nurses in the chemo suite at the PRUH and radiotherapy team at Queen Mary's Hospital, in Sidcup, were so caring and supportive. They felt like an extended part of my family and they always managed to keep my spirits up."
Jackie Wright, Lead Breast Cancer Clinical Nurse Specialist at the PRUH, says: "We're pleased that Elizabeth was able to detect and report her changes early on, and access care with us sooner rather than later.
"Not all changes are cancer but it is important that both women and men carry out regular breast checks. Everyone is different, so it's important to learn what is normal for you and be aware of the symptoms. If something doesn't feel right, then contact your GP straight away."
Reflecting on the sad news about the singer, Sarah Harding, Elizabeth says: "It was heart-breaking to hear about Sarah. It just shows that breast cancer doesn't discriminate and can affect anyone."