King's nurse up for top accolade
10 August 2021 - Orna Carey supported a teenager to come to terms with life-changing spinal injuries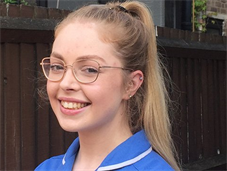 A King's nurse has been nominated by a teenage patient for a prestigious award after the junior sister's care and kindness helped the young woman turn her life around.
Seventeen-year-old Ellis Kottas says Orna Carey went above and beyond to support her – even after her long shifts had ended.
Orna is one of six nurses who have been named finalists in the Patient's Choice category of the RCN Nursing Awards. The award enables members of the public to thank a nurse, midwife, health visitor, healthcare assistant or assistant practitioner who has provided exceptional care and made a huge difference to their lives.
A public vote has opened to choose the winner of the award, which will be announced at a ceremony celebrating nursing excellence on 12 October.
Ellis Kottas, who lives in Sevenoaks in Kent, suffered life-changing injuries while she was at a mental health inpatient unit. She says she was in a "very bad state" when she was subsequently admitted to a surgical ward at King's.
"I was an inpatient for my physical injuries at King's for a whole year battling with pain and having surgeries," Ellis recalls.
"I was bed-bound for months. The year I spent in hospital was not easy. I struggled greatly both mentally and physically. But Orna Carey's dedication and kindness has been so important. It was the boost I needed to keep me going on my journey."
Ellis was the youngest patient on the ward and while all the nurses took special care of her, junior sister Orna always went above and beyond.
"It started off just being chats but Orna was always so busy that it was hard for her to find the time, so she would stay behind after her 12-hour shift to talk to me," says Ellis. "Then she started bringing in sweets, or making time to plait my hair. I always looked forward to her next shift."
When Ellis was being discharged from the ward, she asked to be woken up so she could say goodbye to Orna at the end of her shift but she ended up oversleeping. She was very upset. "It got to 5pm and suddenly Orna burst into my room in her own clothes, hair down, and with a Percy Pig toy and sweets.
"She had remembered I was leaving and called the ward to see if I was still there and rushed in. We had our last chat and said goodbye and I left with my little Percy Pig, which I called Orna."
Ellis has kept the pig with her through her subsequent inpatient stays for added support. "That Percy Pig was by my side through difficult meetings, physio sessions and two kidney infections.
"Orna never had to be that kind or go the extra mile for me, but she did – and it made all the difference. When I bumped into her four months later, I was so happy and excited even though the appointment I had was to discuss my next surgery, a day which wasn't set to be particularly great."
After a challenging experience in mental health services, Ellis also restored her trust in the NHS, which both her parents and Orna believe has been central to her progress and recovery.
"She was the first person I felt able to open up to and trust again," says Ellis. "We could talk about my worries or about life outside the four walls of the ward. She made me feel wanted and that I deserved the help, which I had always found hard to believe.