King's nurse invited to watch coronation
05 May 2023 - Caitlin Adeniyi-Jones will be among 3,800 people selected to watch the coronation of King Charles III and Queen Camilla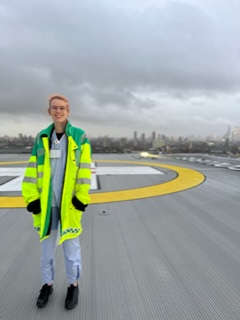 Caitlin Adeniyi-Jones, staff nurse at King's, has won a coveted spot in front of Buckingham Palace to watch the coronation on Saturday 06 May in Westminster. A limited number of free tickets were made available in a ballot for NHS staff, and Caitlin discovered she had been successful two weeks before the event.
Caitlin, who works in the Emergency Department at King's, explained: "I knew entering the ballot was a long shot, but I thought I'd take my chances and see if I could get tickets for me and my mum, Bernice, who was a huge fan of the late Queen Elizabeth II. This will be an historic occasion for the whole country, and we're both so excited."
Caitlin will be able to view the coronation procession from a specially-built grandstand in front of Buckingham Palace, alongside thousands of other NHS and social care workers, representatives of charitable organisations with links to The Royal Family, and veterans.
Caitlin added: "The Royal Family's connection with nursing dates back to Florence Nightingale. I'm looking forward to being part of King Charles' coronation, with the hope of seeing him continue his mother's legacy in protecting the nursing profession, and the NHS as a whole, as well as representing a huge workforce of dedicated, compassionate individuals."