King's major trauma patient discharged after almost 400 days
01 September 2021 - Macy Window thanks staff for outstanding care following life-changing intensive therapy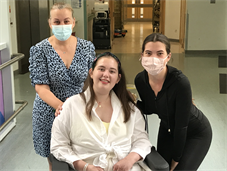 A young patient discharged from King's College Hospital 13 months to the day after a life-changing accident has praised the outstanding care she received from staff.
Macy Window was flown to King's by air ambulance in June 2020 following a high-speed road traffic collision. Bad weather caused the then 19-year-old's car to aquaplane and hit a tree as she drove home from university to celebrate her dad's birthday.
Macy, from Corringham in Essex, suffered extensive traumatic injuries, including a severed artery, punctured lung and multiple fractures, including both femurs (upper leg bones) pelvis and ribs. Her survival rate was said to be just 2%. Upon arrival at King's, the University of Kent student underwent 14 hours of life-saving surgery and was placed in an induced coma for six weeks. She remained in critical care for seven months, requiring more than a dozen surgeries.
In July, following acute intensive rehabilitation, King's staff applauded as Macy left the hospital to continue her recovery at a neuro disability centre.
Macy is one of the most complex major trauma survivors to be treated recently by King's therapists. Alongside nursing and medical care, she received more than 600 hours of therapy time. Macy's rehabilitation started with critical care therapists and continued all through her journey with orthopaedic and neurology trauma therapists.
Initially dependent on others for every activity, Macy worked with the King's team to achieve each new goal, including sitting unsupported on the edge of her bed, rolling side to side with reduced support, and feeding herself.
Macy said her care was "outstanding" and King's staff went above and beyond, including organising her recent 21st birthday celebrations: "I would like to thank the surgeons, doctors and nurses on Frank Stansil Critical Care Unit who worked tirelessly to save my life for the first few months. As well as the therapists who worked so hard to change my life and improve the quality of my life throughout my whole journey at King's. Together, they have all made such a difference and they are the reason I am the way I am today."
Macy's stay at King's coincided with the pandemic. When visitors were limited, she kept in touch with family and friends on her iPad. "Even though I can't use my hands, I adapted my iPad to be controlled by my voice and later on down the line my occupational therapists set me up with a company that provided me with a joy stick and switch so I was able to access my iPad even more," she said.
Macy expressed mixed emotions on her departure. She said, "I made good relationships with staff across the several wards I had been in, be that nurses, speech therapists, occupational therapists, physios and psychologists, but I'm happy to be moving on to the next stage in this very long journey. I feel proud of myself for coming this far from where I started a year and one month ago to the day."
Martine Balmir, Therapy Lead for Major Trauma, described Macy as the most complex major trauma patient the therapy team has rehabilitated at King's.
"With rehabilitation as complex as Macy's, the only way to succeed was to put her at the centre of her care: working on Macy's goals at her own pace and building trust. I'm so proud of the therapy team for the outstanding rehabilitation they delivered. Therapists had to tap into that positive rehabilitation mind-set. It was a very emotional moment to watch her leave the hospital sat up in her wheelchair smiling, because I know how difficult it has been and how much work it took on both sides – from Macy and the therapists – to get there," she said.
Martine added, "I hope Macy knows how proud King's staff are of her recovery and resilience, from the surgeons who saved her life, the nurses who cared for her 24/7 to keep her alive, and the therapists who helped her re-learn to hold her own head up, sit, roll, eat sweets or wipe her own tears. We all look forward to hearing about Macy's continued progress on her rehabilitation journey."
Looking to the future, Macy hopes to complete her English Literature degree and volunteer her time to help other patients. "I am in the early stages of my rehab journey so who knows what the future holds for me and my physical state but I remain hopeful. I would like to work with young and long-term patients in hospital to improve their quality of life and have the opportunity to share my story so that it may help make a difference. I feel like this happened to me so that I am able to help others, which is what I want to do in life. In a strange way it has given me some purpose."
Follow Macy's rehabilitation journey on Instagram @macywindow and JustGiving