"King's gave me a platform to develop as a nurse"
11 May 2023 - King's nurse, Minija Joseph marks International Nurses' Day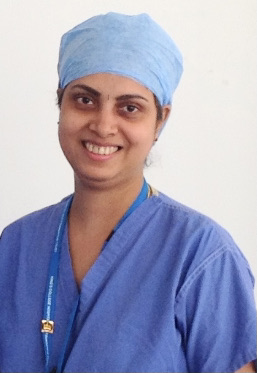 This Friday 12 May we will be celebrating International Nurses' Day at King's. We spoke to one of our nurses who told us about her career with the Trust.
Minija Joseph is Lead Nurse for Inpatient Theatres at King's College Hospital and was the first overseas nurses from India to join the Trust in 2000. Although Minija is now at home at King's, adapting to life here from India was a challenge at first: "I did not know anyone living here on arrival and just like everyone else I too had to bear with brunt of the culture shock".
"The way of conducting business, engaging with people, weather, cuisine, and above all the specifics of communication were all areas I had to confront on a daily basis. However, I approached these differences with an open mind and slowly felt myself adapting to my environment."
Since coming to the UK, Minija's career has developed and she has held a number of roles at King's. In 2008 and 2015, she was awarded the Perioperative Practitioner of the Year award from the Association of Perioperative Practice and was nominated for the Nursing Times' Nurse of the Year Award in 2016. "At King's, I had a platform to develop and the chance to take on more senior nursing roles, working at different sites and specialties. I have been fortunate to work with some amazing nursing leaders who motivated me to strive further."
Reflecting on her time at King's so far, Minija told us: "I have inevitably come across challenges and stressful situations, but I've always tried to remain determined and keep to my values. I am forever grateful for what King's has done for me, and for all of the amazing nurses I have been privileged to work with.
"I'd like to wish all my colleagues here at King's and around the world a very happy International Nurses' Day!"