King's doctor made MBE in special ceremony at his home
31 May 2023 - Professor Mark Monaghan, who led clinical and academic echocardiography for more than three decades at King's College Hospital NHS Foundation Trust, has been awarded an MBE for his services to cardiology.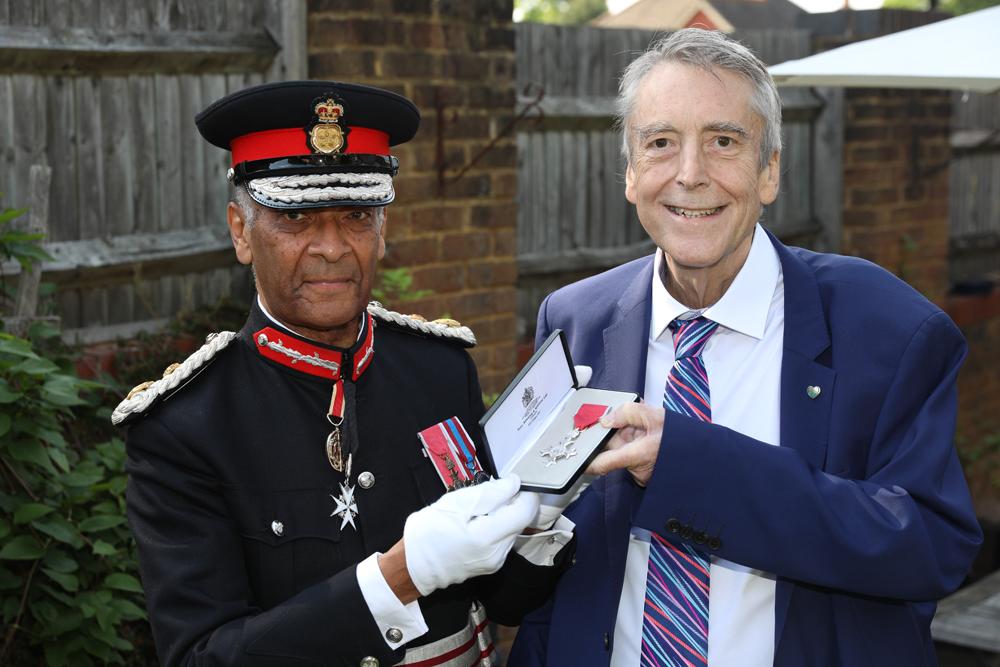 Mark Monaghan (right) pictured with Lord-Lieutenant of Greater London Sir Kenneth Olisa
Mark, who was one of the longest serving members of King's until his retirement two years ago, was presented with the MBE by the Lord-Lieutenant of Greater London Sir Kenneth Olisa at a special ceremony on 24 May.
Normally, award nominations for Orders of the British Empire are not announced until mid-June, but as Mark was in palliative care for a serious illness, the Cabinet Office agreed to bring the presentation forward and allow Mark's family to host it in the garden of his home in Surrey.
In his presentation, Sir Kenneth outlined the work that Mark had been nominated for, including being the first to use contrast agents to enhance cardiac imaging using ultrasound – a technique that is now used worldwide – as well as co-founding the British Society of Echocardiography, and authoring more than 400 peer-reviewed papers, 3 books and multiple book chapters.
"I had no inkling that this was coming," Mark said, "I feel delighted and very honoured. Hopefully this will inspire others, too. My career at King's has been very enjoyable but this has been the icing on the cake."
Mark was born at King's and it was his uncle, the then Medical Director, who first encouraged him to join the hospital as an 18-year-old trainee in 1973.
"I had no idea where my career was going to go or that I would end up in cardiology, but that was the field that really inspired me," he explained.
"King's was the first to introduce Healthcare Scientists and I was the first in our department to become one. That just wouldn't have happened if I hadn't had the mentoring and support. It was really exciting and I often look back and think that I was so lucky to work on that research at that time, and it was very unusual for someone without a purely medical background to be able to do that."
Having gained a Masters Degree in Physics and Engineering, Mark used this knowledge to develop the use of contrast agents in ultrasound to study blood flow through the heart, as well as to assist companies to develop equipment to enable cardiologists to work more effectively. Mark also helped to develop 3D imaging of the heart – a technique that was pioneered at King's – and completed multiple research programmes over his years at the Trust.
Aside from two sabbaticals at Stanford University in California, Mark has spent his entire career at King's, rising to the post of Consultant Clinical Scientist and Head of Echocardiography by 1990. He served as Director of Non-Invasive Cardiology and also for a time as the Clinical Director for the Cardiac Care Group. He was also made a Fellow of the Royal College of Physicians and worked closely with the British Heart Foundation and British Cardiolovascular Society.
Having been at King's for almost half a century, Mark has mentored countless students, clinicians, echocardiographers and scientists – many who have gone on to distinguished careers themselves around the world.
"It was a fascination in the subject matter and a love of teaching that drove me in my career," Mark said. "I also love to teach; I love standing on a podium and seeing the look on peoples' eyes when they get it – they understand."
And aside from his professional ties to the hospital, Mark has many personal ones too. He met his future wife, Frances, at King's and they went on to have three sons, all born at King's and christened in the hospital chapel, and four grand-children.
"If I was a stick of rock and you broke me in half it would say 'King's College Hospital' in the middle," said Mark. "I've had several job offers over the years at home and abroad. I have no regrets about not taking them, as I don't think anywhere could be as helpful and supportive as King's has been to me. The feeling you get there is that it's a real family; it's such a lovely atmosphere."
Dr Narbeh Melikian, a King's Consultant Cardiologist who came to see Mark get his MBE, said: "I can't think of anyone who deserves this honour more than Mark. I don't think anyone has put King's more on the map internationally than he has. As a colleague, he's the person you go to no matter what the issue; medical, political or personal. There's no one like him – he's truly a giant of his field and his single-handed contribution to cardiology has been incredible."
Dr George Amin-Youssef, another King's Consultant Cardiologist who was at the presentation, said: "Mark is my boss, my friend and my teacher. I've worked closely with him for 30 years and no one has done more for cardiology than him."
Professor Clive Kay, Chief Executive of King's College Hospital NHS Foundation Trust, added:
"Mark remains a key member of Team King's, and his ongoing commitment to the organisation is still clear to see. Mark's clinical and research achievements over the years speak for themselves, but as important, he has generously supported and mentored so many colleagues throughout their careers, which is why his MBE is so richly deserved."
Sadly, Mark died shortly after receiving his MBE on 11 June 2023. Our thoughts are with his family and those who knew and worked with Mark.