King's Consultant Physiotherapist receives Fellowship Award
23 March 2023 - The award will enable research into chronic breathlessness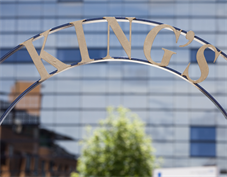 Dr Charles Reilly, Consultant Physiotherapist in Chronic Respiratory Disease at King's College Hospital NHS Foundation Trust has been awarded £1.2million for a five-year advanced fellowship by the Health Education England /National Institute for Health and Care Research (NIHR) Integrated Clinical and Practitioner Academic Advanced Clinical and Practitioner Academic Fellowship (ACAF) scheme.
The NIHR ACAF fellowship allows Dr Reilly to advance his research and leadership expertise, develop his research team and fund his research project titled, Improving the lives of people living with chronic breathlessness due to advance disease via a self-guided internet-based supportive intervention, SELF-BREATHE.
Over 3 million people in the UK live with chronic breathlessness due to advanced respiratory diseases like Chronic Obstructive Pulmonary Disease (COPD). The occurrence of chronic breathlessness is increasing due to population ageing and complex health conditions, further amplified by the COVID-19 pandemic. Chronic breathlessness results in poor health related quality of life, increased disability and high health and social care costs; predominately high attendances at emergency departments and re-attendances due to breathlessness crisis.
Dr Reilly's research has demonstrated that patients with chronic breathlessness are willing to use online breathlessness resources if given the opportunity. Collaborating with patients, he developed SELF-BREATHE, an online education and self-management breathlessness tool for people with chronic breathlessness due to advanced respiratory disease. With the funding provided as part of the NIHR ACAF fellowship, Dr Reilly will test the clinical effectiveness of SELF-BREATHE in a multi-centre randomised controlled trial.
Dr Charles Reilly, said: "I am passionate about improving the lives of those living with chronic breathlessness due to advanced disease. It's such an honour and privilege to be awarded this NIHR Advanced Fellowship, to further develop and test SELF-BREATHE.
"This award builds upon my strong academic affiliation with Cicely Sunders Institute, King's College London. I hope my success will inspire other Allied Health Professional to apply to the NIHR and develop their own clinical academic careers."
Professor Irene Higginson, Consultant in Palliative Care Medicine at King's College Hospital and Executive Dean at the Florence Nightingale Faculty of Nursing, Midwifery & Palliative Care at King's College London added: "I am delighted that the UK National Institute for Health and Care Research have granted this prestigious award to Dr Reilly and the team to develop SELF-BREATHE further.
"Breathlessness is very distressing for people seriously affected by advanced diseases, such as cancer, and respiratory and heart diseases, limiting what they can do daily, limiting social connections, and is often very frightening during acute episodes.
"We know there are ways to improve breathlessness, using straightforward technologies and therapies which can be delivered at home. However, they are only available to some. With this SELF-BREATHE programme, things that we know work will become available to people locally, they will be trained and supported in their use, and the team will evaluate the effects to see what works and how.
"Over time this will help people locally and all across the UK whose lives are limited by this common debilitating symptom. I am delighted that Dr Reilly, one of the UK's leading clinical academic physiotherapists, has received this award to enable him and his team to drive forward this work."
Professor Ray Chaudhuri, Research and Development Director and Consultant Neurologist at King's College Hospital said: "This exceptional achievement showcases the enormous wealth of research expertise at the highest level among King's College Hospital (KCH) healthcare professionals. The work proposed and to be developed by Charles consolidates the importance of self-management in advanced respiratory disease, which could have a global effect on patient care. It highlights the enormous potential of the King's research community at all levels, from grassroots to high academia and the ability to secure high-quality peer-reviewed grants."