King's appoints Chief Medical Officer
13 April 2021 - Dr Leonie Penna appointed on a substantive basis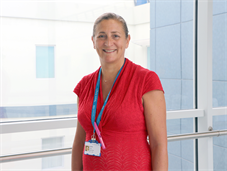 Dr Leonie Penna has been appointed Chief Medical Officer (CMO) at King's College Hospital NHS Foundation Trust.
Dr Penna, who has been acting CMO since February 2020, has played a major leadership role throughout the COVID-19 pandemic, managing the Trust's clinical response. She has now been appointed into the substantive role after a formal recruitment process.
Her appointment comes at time when King's embeds its clinical leadership model and finalises the development its new clinical strategy. This will shape the future vision, ambition and priorities for the Trust.
Dr Penna will be responsible for delivering the quality, education and training, and research and innovation agenda, as well as being responsible for Medical Professional Practice.
She brings to the role of CMO more than 17 years' clinical experience working at King's as a consultant in high-risk obstetrics and fetal medicine. Prior to that Dr Penna worked as a consultant in Epsom and St Helier University Hospitals NHS Trust and St George's University Hospitals NHS Foundation Trust. Since then, she has held a number of leadership roles, initially focused on women's health, at both King's College Hospital and the Princess Royal University Hospital.
A graduate of University College London, she undertook her specialist training in south-east and south-west London, including fetal medicine training in the original Harris Birthright Fetal Medicine Unit.
Dr Penna has a reputation as a skilled, hands-on clinician and as a postgraduate and undergraduate educator. She intends to continue some direct patient care and educational activity in her future role.